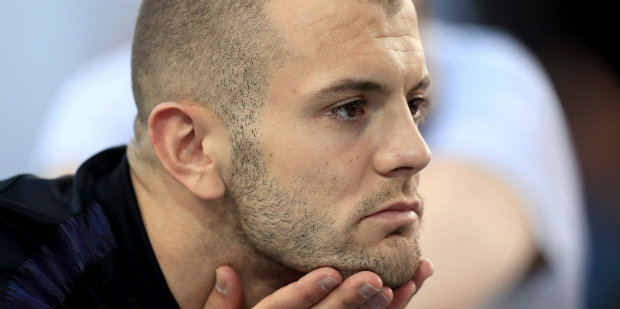 © Mike Egerton/PA Wire
Jack Wilshere will be given a personal training plan at West Ham in order to keep him fit and pave the way for an England return.
The midfielder is set to make his Hammers debut at Liverpool on Sunday after joining his boyhood club on a free transfer from Arsenal.
Wilshere's injury record cost him a place at this summer's World Cup, but new West Ham boss Manuel Pellegrini is confident he can bring out the best in the 26-year-old.
"He was very unlucky in some seasons with so many injuries, but he continued being a different player," said Pellegrini.
"As a manager you can work a lot of different ways with a lot of different tactics, a lot of different systems, but if you don't have good players it's impossible to be a good team.
"Jack, in the 10 years that he played for Arsenal, he's a different player. So if the injuries respect him, alone he will make the difference.
"We are always talking to him. Maybe he will not work exactly the same as the rest of the squad.
"But I am not scared about that because the last two seasons he played a lot of games. At Bournemouth and at Arsenal, he didn't have too many injuries.
"He's a young player and he knows his body and I hope that he will be fit for most of the season.
"Every day we have the players on the GPS and we know the most amount of metres that he does before he has a rest. So that, with the fitness coach and the sport science, will manage his work.
"Can he be an England player again? I think so, yes. The technical players make the difference and Jack is the special player that makes different things.
"So if he continues playing every weekend his performances will be better and I'm sure that he will have an option to return to the England squad."