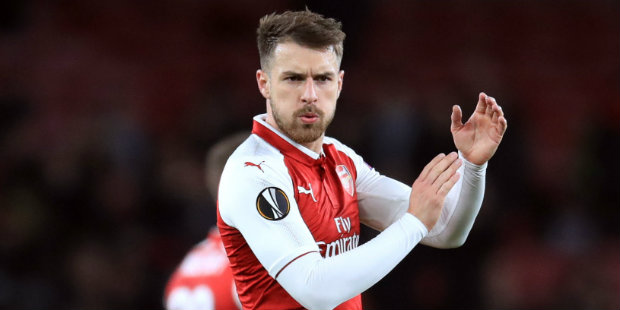 © Adam Davy/PA Wire
Aaron Ramsey is destined to play for an elite European club if he leaves Arsenal, according to his Wales manager Ryan Giggs.
Ramsey's 10-year Arsenal stay appears to be drawing to a close with the midfielder's representatives, Avid Sports & Entertainment Group, suggesting in two tweets this week that contract talks with the Gunners had collapsed.
It was reported that Arsenal had pulled out of talks with their wage bill stretched to over £200million a year and Ramsey's representatives, in a since deleted tweet, said the player "didn't want to leave, but now there is no other option".
The 27-year-old joined Arsenal from Cardiff in 2008 for a bargain £5m and has made 337 appearances, scoring 58 goals.
But he could now leave north London in January or next summer and Giggs said: "Aaron can play anywhere and for any club, he's suited to any league.
"He's played at the top with Arsenal and has been there for 10 years. Then there's all the games he's played for Wales.
"He's a goalscoring midfielder who, if he plays 40-45 games a season, is going to score 15 goals. They don't grow on trees.
"He's also a good character, has a good personality, and is a good professional. So if he does go, somebody is getting a very good player."
Ramsey missed Arsenal's Europa League tie in Azerbaijan on Thursday to stay in London with his wife Colleen, who is expecting twins.
Arsenal manager Unai Emery said Ramsey had asked to skip the Qarabag tie, but he is expected to return to the Gunners' squad for the Premier League game at Fulham on Sunday.
Giggs confirmed Ramsey's situation would continue to be assessed before the Cardiff friendly with Spain on Thursday.
Wales travel to the Republic of Ireland five days later for a Nations League tie.
"We have to weigh it up and it's something for us to assess," Giggs said.
"Obviously we are at home for the first game. That's a plus, but we are just monitoring the situation.
"I've not spoken to him about it yet. I don't like talking to players going into a weekend before they have a game.
"I want them to concentrate on that, but I will be in touch with him after that."