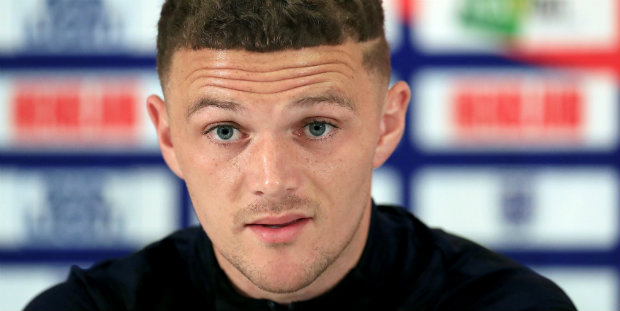 © Mike Egerton/PA Wire
Kieran Trippier believes England have earned a warm Wembley welcome when they host Spain on Saturday and is eager to land a big result to keep the feelgood factor going.
The Three Lions' run to the semi-finals of the World Cup united the nation this summer, restoring public affection after several tournaments that succeeded only in eroding the side's status.
On Saturday, almost two months after their agonising exit to Croatia in Moscow, fans have the chance to show their appreciation at the opening fixture of the new Nations League competition.
"Somebody said it's nearly sold out and that's a good feeling, hopefully we get a good reception," said Trippier, whose fine displays at right wing-back made him one of England's breakout stars.
"I think we did well in Russia, so hopefully we can keep performing and put smiles on people's faces.
"After the World Cup, the fans realised how much it means to the players here to represent England. We love coming here every opportunity that we get and we want our performances on the field to show how much it means to us.
"We were happy to put a smile on the nation's face again but we have got another tough task ahead of us and hopefully we can make many more memories."
For all England's clear progress under Gareth Southgate, the feeling lingers that a major scalp is required to take the team to the next level.
There have been creditable draws with Germany, Brazil and Italy – as well as a 2-2 scoreline when the Spaniards last visited London – but they have found it difficult to put away elite opposition.
For Trippier, that leaves a clear target.
"We need to beat the very best and Spain are certainly one of the best," he said.
"We want to play the likes of Spain to show that we are here and we are ready. It'll be a tough test but we know the quality we have got in our dressing room and on our day we can beat anyone."
Trippier has already transferred some of his World Cup form to Tottenham in the early weeks on the season, recreating his opening goal in the semi-final by lashing home a free-kick against Fulham.
Harry Kane, the golden boot winner in Russia, also scored in that game but questions marks linger over his heavy workload and potential for burnout.
Both Spurs and England rely increasingly heavily on the 25-year-old but Trippier is confident the striker can keep producing.
"I'm not concerned, he's first in and last out (of training). He recovers well and everybody knows Harry's a top professional," said Trippier.
"I can't see him slowing down, you've seen his work-rate in the games we've played this season. He's as fit as anything."