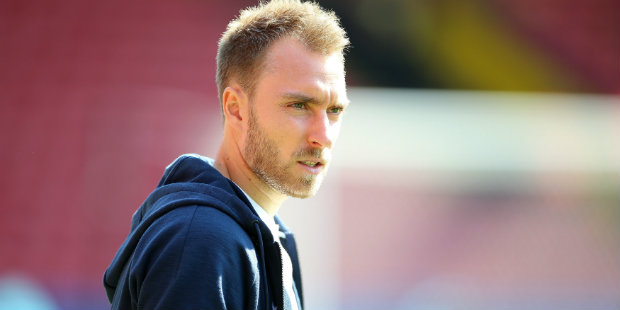 © Nigel French/PA Wire
Mauricio Pochettino says he does not know whether Christian Eriksen has played his last match for Tottenham.
The Danish midfielder, who is in the final year of his contract, has been linked with a possible move in the final stages of the European transfer window, which closes on 2 September.
And speculation about his future increased after he was left out of the starting line-up for the 1-0 defeat at home to Newcastle.
"I cannot pick more than 11," said Spurs boss Pochettino when asked at his post-match press conference about Eriksen's omission.
"I know you are going to ask me about this. For sure if we win 3-0 you are not going to ask me.
"Of course I accept that the players that are out are always good when you don't win."
Pochettino appeared to be irritated when asked about the issue of Eriksen's future.
He said: "Why try to get me to tell you something you know better than me and have more information than me?
"You know very well, and I told you during pre-season and in my press conference after Aston Villa that the group is still unsettled and we need to find solutions.
"We have one week more to wait and see what happens in the last 10 days.
"We are relaxed. We are calm. Some situations we cannot fix. We have to wait."
Asked whether he believes Eriksen has made his final appearance for the club, Pochettino said: "I don't know. I don't know. Why you ask me? Do you know something?
"It's so difficult the situation but you cannot blame one side or another. That is the circumstance we arrive in with different players and different situations."