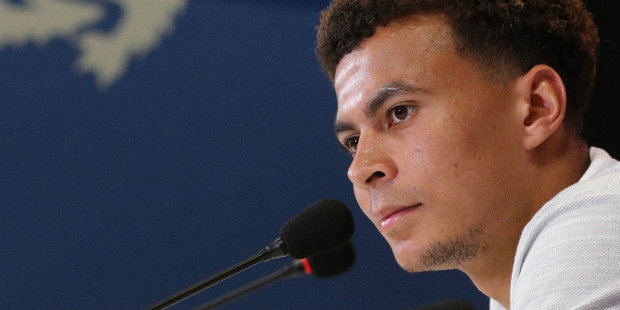 Dele Alli has insisted England are "not scared of anyone" at this World Cup.
Qualification for the last 16 was sealed with a game to spare after the Three Lions followed up their last-gasp win against Tunisia with a ruthless display in the shellacking of Panama.
Gareth Southgate's second string lost to Belgium's back-ups on Thursday, but confidence is still coursing through the squad ahead of Tuesday's tough-looking clash against Colombia in Moscow.
"The World Cup is the highest level," Tottenham's Alli said.
"The best teams around the world, the players playing against each other.
"As a team we're not scared of anyone.
"Whatever team you put in front of us we're not going to hide, we'll go out there be confident in ourselves, play the way we want to play and hopefully win the game.
"Of course, like I said before, we've come here with the mentality we want to win it and we're going to win it.
"At the same time we can't get carried away. We've been playing very well, there has been a lot of positives but at the same time there are still things to work on and we know that as players.
"For us we have to focus on the next game, we can't think about how well we've played in the last game or how good we are doing.
"We have to be positive, but we can't get carried away and let our feet get off the floor.
"We have to perform well and we're confident that we can beat anyone."
While England's players believe they can lift the trophy, there appears little chance of them looking too far ahead as their last taste of knockout football ended with a humiliating loss to Iceland.
Pressure got the better of them at Euro 2016, but Southgate has helped shape the mentality of a group facing what the manager calls England's biggest match in a decade.
"Every player is different," Alli said of coping with pressure. "Every player handles different situations in different ways.
"Personally, the only pressure is the pressure I put on myself. I want to go out there and do as well as I can if I'm selected. Be part of the starting 11 and help the team as much as a I can, play as well as I can."