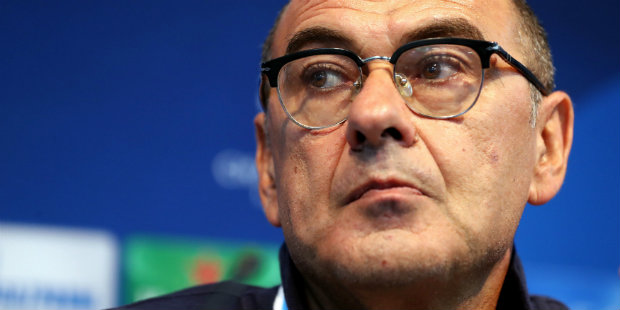 © Martin Rickett/PA Wire
Maurizio Sarri expects Chelsea to keep Eden Hazard and Willian despite the transfer window remaining open in continental Europe.
Hazard has been linked with Real Madrid and Willian with Barcelona this summer.
Sarri, speaking ahead of Saturday's Premier League opener at Huddersfield, said: "I think it's impossible. Here the market is closed, so we cannot change important players now. It's impossible."
Goalkeeper Thibaut Courtois left Chelsea for Real Madrid this week, urging his Belgium team-mate Hazard to join him in future.
"Hazard is with us," Sarri said.
"I think definitely. It's not a problem. I have spoken with him three, four times, for everything. He never said something about the market. I think he's very happy to stay here."
Hazard's contract runs until June 2020 and he has been mulling over the offer of an extension for some time. Sarri believes Hazard will commit to the club.
Sarri added: "I don't want to discuss about contracts. It's not my job. My job is on the pitch. My job is to improve the players. My job is to try to win matches.
"It's not to sign new contracts. I have seen a player very happy to stay here. So I think it will not be a problem, the new contract."
Sarri suggested there will be departures before the end of the month, with the likes of Belgium striker Michy Batshuayi and France midfielder Tiemoue Bakayoko linked with loan moves.
"Now I think the squad is too large. So I think some players have to go on loan. I don't know who at the moment. I prefer to have 23, 24 players and three, four, very young players. No more."