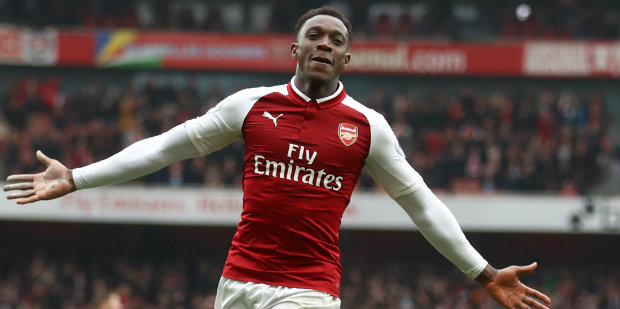 © Tim Goode/PA Wire
Arsenal head coach Unai Emery insists England forward Danny Welbeck will not be sold this summer.
Although the Premier League transfer window closed on Thursday evening, other European clubs can buy players from England until the end of August.
Welbeck, 27, had been linked with a move away from the Emirates Stadium with the likes of Pierre-Emerick Aubameyang, Alexandre Lacazette and Henrikh Mkhitaryan ahead of him in the pecking order.
Valencia are one club to have reportedly shown an interest in the former Manchester United man – who was part of Gareth Southgate's squad which reached to World Cup semi-finals in Russia.
Emery explained that Welbeck will not be involved in Arsenal's Premier League opener against champions Manchester City on Sunday following his exploits with England.
But the new head coach – set to take charge of his first competitive game since replacing Arsene Wenger – believes only three players will be allowed to depart over the course of the month, and Welbeck is not one of them.
"Yesterday, the window closed here in the Premier League. Today, we had a meeting with the players to close all the possibilities to bring more players," said Emery.
"We only have three players: Carl Jenkinson, David Ospina and Joel Campbell, with the possibility to leave. But the other players are with us and we are going to work in the Emirates the day before the match with all the players."
Emery could not have been handed a more difficult start to life at Arsenal with a trip to Chelsea following on from the visit of City.
But the 46-year-old former Paris St Germain boss is looking forward to taking on fellow Spaniard Pep Guardiola in his Gunners bow.
"We are excited," he said.
"We have a lot of ambition to start well on Sunday against the last winners of the Premier League. Also, I think that it's a big and great match that we can play to start this season.
"It's more easy to speak here than to do it on the pitch. City, I think, after two years of working with Guardiola they have more stability, more security and when you watch City's matches, they are playing with a very, very great confidence in themselves.
"Also, I think that Guardiola's coaching is clear in this team. For that, we are working this week and preparing for this game and preparing for the opposition against City as a collective and as individual players.
"Above all, it's about confidence in ourselves to play the best match on Sunday. We are to think only to win the match."