Santi Cazorla has missed Arsenal's last 14 Premier League matches due to injury and former Chelsea star Pat Nevin believes the Gunners aren't the same team without him.
Speaking to Newstalk's Off The Ball podcast after Arsenal's 2-1 win against Burnley on Sunday afternoon, former Chelsea midfielder Nevin highlighted Cazorla's absence.
"I just don't know if they're quite full there yet. I do always go back to the absence of Santi Cazorla. When he isn't playing, they're not quite the same side," Nevin said.
However, Opta stats – published by daily fantasy football game Oulala.com – paint a different picture.
Since joining the club in 2012, Cazorla has played a total of 129 league games over the past five seasons and has been absent for 45.
Oulala.com checked out the stats to see how Arsenal have fared with and without the midfielder in the Premier League since he joined the club – and the data shows his influence isn't as great as many, including Nevin, think.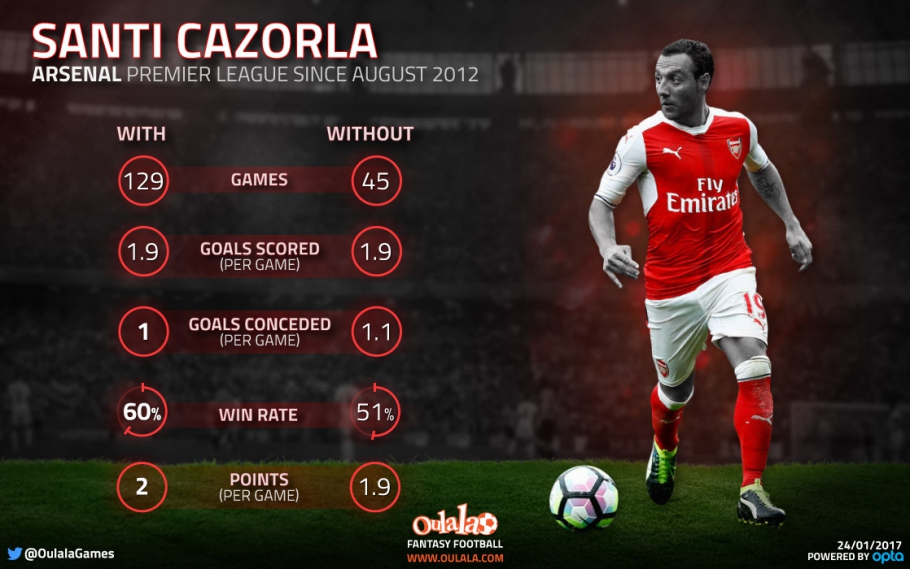 In the 129 games he has featured, Arsenal have won 78, resulting in a win percentage of 60%. Without him, they have won 23 of the 45 matches, a win rate of 51%.
But while the Gunners win more games with Cazorla, other stats show Arsenal fare just as well without him.
Arsenal have picked up 261 points from a possible 387 on offer when the 32-year-old has featured, an average of two points per game. This narrowly drops to 1.9 points per game without him – 84 from a possible 135.
When Cazorla has been in the team, Arsenal have scored 242 goals in 129 matches, 1.9 goals per game. Without him they have netted 84 goals in 45 games, also an average of 1.9 per match.
Defensively, the Gunners have conceded 123 goals with Cazorla (one goal per game) compared to just 0.1 more per match without him (50 goals in 45 games).