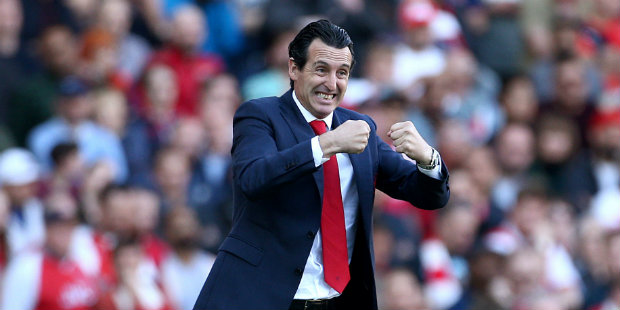 © Yui Mok/PA Wire
The announcement of Arsenal's side for the game against Manchester United provoked an angry reaction from some Arsenal fans on Twitter.
Arsenal boss Unai Emery has been under pressure, as has United manager Ole Gunnar Solskjaer.
And Emery's team selection did not go down at all well with many frustrated Arsenal fans.
In fact, within a quarter of an hour of the team being announced, the hashtag #emeryout was already trending on Twitter in the UK.
Many fans were upset to see Mesut Ozil and summer signing Kieran Tierney not even on the bench.
No Ozil, no Tierney in the squad.
If Arsenal should lose against Manchester United Tonight. I expect the #EmeryOut campaign to take full effect and actually get this clueless under-average coach out of my club for real. #MUNARS

— Laxx (@ManLikeLaxx) September 30, 2019
He's actually a fraud. How are you not picking the strongest team available to you #EmeryOut

— jwillz (@jwillz94) September 30, 2019
No Ozil, no Tierney, not even Bellerin for a few minutes towards the end. Two players who aren't in good form and are arguably out of it, Kolasinac at LB, Three defensive midfielders and Ceballos on the bench. He's going to defend because he's scared of their DJ and co #EmeryOut

— RobHoldingFC (@HahaHolding) September 30, 2019
@UnaiEmery_ is just sick upstairs. All the 3 midfielders are defensive minded No creativity at all. Also playing Kolasinac over Tierney..hmmmm. This idiot needs to go. If Arsene wenger have these team we will be joint top with Liverpool on points #EmeryOut

— PRinz abk (@Abk_DPlayMaker) September 30, 2019
#EmeryOut#EmeryOut#EmeryOut#EmeryOut#EmeryOut#EmeryOut#EmeryOut

I don't want a child as a coach
Playing defensive over this man united team!

— Amedari GodsFavour (@Amedari_lechi) September 30, 2019
I'm tired of Emery's selection! #EmeryOut

— Sanmi (@Sanmi_sway) September 30, 2019
i'm all ready to rep #EmeryOut if we don't get 3 points cos I already know Holding and Tierney's absence as well as that shambolic midfield with Torreira B2B is gonna be our demise

— BLAZ£🔥 #EmeryOut (@jayblaze_1) September 30, 2019
So Unai Emery is telling me Ozil is not fit enough to start this match or even make the bench 🤷‍♂️🤷‍♂️ Sincerely this is a terrible way of treating such a talented player and Bukayo Saka can start a big match ahead of Ozil😡😡 #EmeryOut

— Haryo_dheji (@Iamdherjavu) September 30, 2019