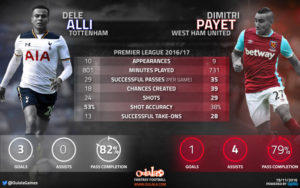 All eyes will be on Dele Alli, if he shakes off a knee injury, and Dimitri Payet when Tottenham meet West Ham at White Hart Lane on Saturday.
While Spurs sit fifth, the Hammers are just one point above the relegation zone and hope to breath life back into a disappointing season.
Both teams will want major contributions from their key men, and daily fantasy football game Oulala.com have been crunching the stats provided by Opta to see how Alli and Payet compare this term.
Passing
While Payet has averaged more successful passes per game (35 to 29), Alli has been the more accurate, completing 82 per cent of his passes to the Frenchman's 79 per cent.
Creativity
Payet is the clear winner here. The 29-year-old has created more than double the amount of chances that Alli has (39 to 18), despite making one fewer league appearance this season.
The West Ham star has also recorded four assists in the Premier League in his first nine games, while Alli has registered just one in 10.
Dribbling
Hammers man Payet takes the dribbling plaudits having successfully completed 28 attempted take-ons, an average of 3.1 per game.
Spurs midfielder Alli has managed to complete just 13 dribbles, a far lower average of just 1.3 per game.
Finishing
Alli has clearly been the better of the two in front of goal. While the 20-year-old has had fewer attempts on goal (24 to 29), he has scored more than Payet (three to one), giving the Spurs man a far better conversion rate (13% to 3%).
Alli's accuracy has also been superior to Payet's, hitting the target 53% of the time, compared to just 38% from the West Ham star.
Conclusion
Despite West Ham's sluggish start, Payet comes out on top in five out of the eight key areas analysed, with Alli leading in three.