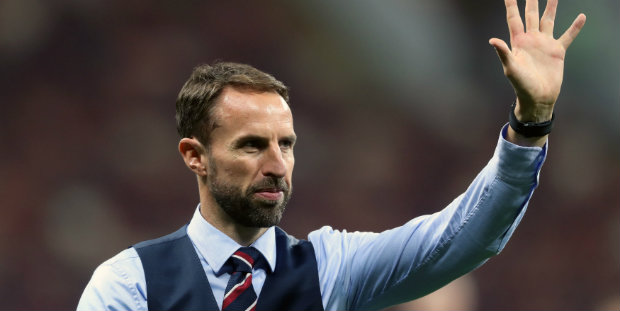 Gareth Southgate has revealed he has held conversations with Declan Rice over changing allegiances and playing for England – but has made no promises to the Republic of Ireland international.
London-born Rice has three senior caps with the Republic but they all came in non-competitive matches, meaning the West Ham defender can still revert to representing the Three Lions.
The 19-year-old was omitted from Martin O'Neill's latest squad, with the Republic boss admitting he is allowing Rice the time to deliberate his international future.
With a match in the inaugural Nations League to come against Wales, a cap for Rice would have committed him to the Republic of Ireland.
Although he was not named in O'Neill's ranks, he was also missing when Southgate named his own 23-man squad for the upcoming Nations League fixture with Spain and a friendly against Switzerland.
Ahead of meeting up with his players next week, Southgate explained that he has spoken to Rice but has made no assurances over a future England call-up.
"I think it's fair to say I have spoken with him but I have not promised anything because I don't think that's right," the England manager explained.
"It would be easy whether you are with club or national association to promise people things but I can't promise players who were with us at the World Cup that they will be involved in six months' time.
"So why would I promise that to a young player? I think that would be unethical. It's a very difficult situation and I can understand the debate on all sides.
"The landscape is very complicated. The way the world is families are quite transient and nearly every player in Under-15s and Under-16s are dual nationality. This is something all countries are aware of."
England saw Crystal Palace winger Wilfried Zaha opt to change representation to his native Ivory Coast in 2016, having picked up two caps with the Three Lions beforehand.
Southgate knows the issues surrounding dual nationality will only continue, especially at youth level.
"All countries are across the dual nationality situation – it is incredibly complex," he added.
"We have always had players that have switched from youth level … we have seen the likes of (Ethan) Ampadu and David Brooks played for England and Wales in one summer.
"That landscape is there for everybody and you know that some of those decisions will fall in your favour and some will go the other way.
"It would be wrong of us to be arrogant and think people will just come and play for us because we are England but really I think when you invest in a player at a younger level you hope there is an emotional tie formed.
"All I would say for Declan is I think the boy is in a really difficult position now and I'm extremely conscious of that. He has to make a decision…I think it's important that he is allowed that opportunity."