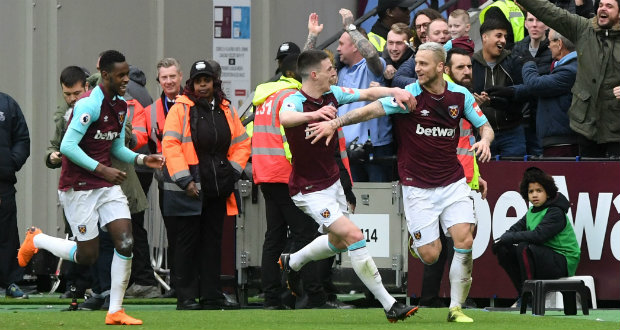 © Victoria Jones/PA Wire
David Moyes got the perfect response from West Ham's players and supporters as peace finally broke out at the London Stadium.
A 3-0 win over Southampton, courtesy of a first Hammers goal from Joao Mario and two from the superb Marko Arnautovic, moved them five points clear of the relegation zone and, more importantly, calmed a previously mutinous crowd.
Arnautovic pointedly celebrated both his goals in front of Southampton boss Mark Hughes, who managed him at Stoke and with whom he clashed when West Ham beat the Potters in December.
Moyes appeared to have a word with his maverick forward as the players walked off at half-time.
"I just told him to do his job," Moyes explained.
"I wanted him to get a hat-trick. Marko has done great for us. I was raging when he missed an early chance but he got two more so good on him."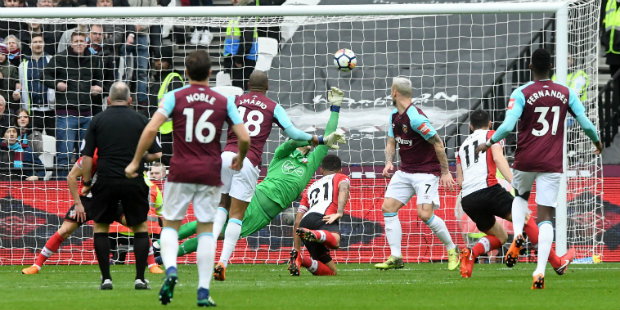 © Victoria Jones/PA Wire
After West Ham's 3-0 home defeat by Burnley was overshadowed by pitch invasions, missile-throwing and protests in front of the directors' box, there were real fears of more unsavoury scenes.
But what a difference three weeks, and three goals, makes. A peaceful protest against the board took place outside the ground before the game but a truce was called inside.
"The players showed how they felt about past events, they were pent up and ready to go," said Hammers boss Moyes.
"I thought before kick-off the supporters showed they are with the club and with the team, and then the players showed what they were going to do. They really kicked on.
"It was a really big game for us, if we'd lost we could have slipped further down.
"We won't get carried away, but we've not dropped into the bottom three. There are some big games to come and if the stadium stays like it was today it gives us a great chance."