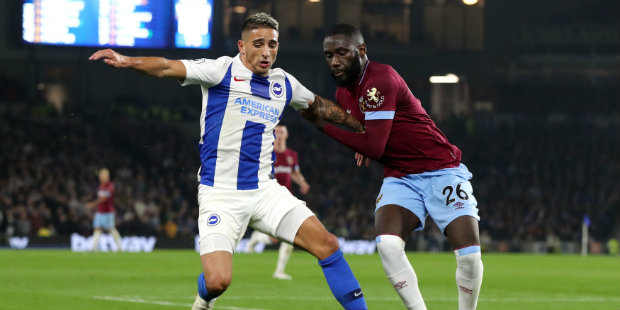 © Gareth Fuller/PA Wire
West Ham produced a poor display in losing 1-0 at Brighton, where Glenn Murray scored the only goal.
Many Hammers fans on Twitter were furious with the performance of Arthur Masuaku, whose display did nothing to change the minds of his many doubters.
Masuaku was at fault in the build up to the goal and was never convincing at left-back.
There was plenty of criticism too of Michail Antonio, with many supporters insisting that both players need to be axed by manager Manuel Pellegrini.
Quite frankly a shocking performance, complete lack of quality in the midfield 5 and masuaku and Antonio were nothing short of appalling

— Harry Steele (@HarrySteele77) October 5, 2018
Masuaku – diabolical. Antonio – not even League 2 standard. Both need replacing

— West Ham News (@whufc_news) October 5, 2018
Absolutely pathetic. Especially Michail Antonio & Arthur Masuaku.

— Jack⚒ (@Jackbailey27) October 5, 2018
Antonio and Masuaku are just not good enough…

— Stuart Quinn (@StewyQ) October 5, 2018
Antonio and Masuaku are not good enough. Simple as that. Their service to our front 3 is non existent.

— Phil (@PhilpWHU) October 5, 2018
Typical @WestHamUtd bottle it when we're favourites. Masuaku should be dropped after their goal, Antonio is done. #whufc

— Josh (@josh_whu) October 5, 2018
An absolutely terrible, slow & all round gutless performance @WestHamUtd. I'd love to know how many points Masuaku has cost us since he came to the club. Shocking.

— Graham Byrne (@GHamBurn_) October 5, 2018
Start sloppy and lethargic and this is what happens. We turned up thinking it would be a stroll. No more Masuaku please. Don't care that he can do a trick. He can't defend. Down to earth with a bump

— Terry Morgan (@terrym66) October 5, 2018
Awful, if that performance doesn't tell Pellegrini that he needs to stop persisting with Masuaku I don't know what will. Anderson non-existent again as well, dire.

— Martyn (@mbarker07) October 5, 2018
@davidgold get rid of Masuaku he is lazy and doesn't deserve to be start ing

— ElkTheHammer (@elkinson65) October 5, 2018
That Masuaku is one of the worst players I've seen in the premier league.

— Jack Williams (@Jackw93) October 5, 2018
In my 15 odd years supporting West Ham I struggle to come up with a worst permanent LB signing than Masuaku.

— ForeverBoleyn.com (@foreverboleyn) October 5, 2018
can we just get rid of masuaku please

— charl🏴󠁧󠁢󠁥󠁮󠁧󠁿 (@__cjc98) October 5, 2018
Masuaku can't defend to save his life!

— Joe Harris (@JoeHarrisXX) October 5, 2018
I want Masuaku gone

— regs 🎃 (@STOOOPIDDDD) October 5, 2018
Masuaku getting done again. A genuine weak link, until he's replaced we won't ever be consistent enough for the top half.

— Martyn (@mbarker07) October 5, 2018
MASUAKU needs to be dropped

— ElkTheHammer (@elkinson65) October 5, 2018
Played the wrong tactics against a Chris Hughton team who knew how the full backs would get isolated. Masuaku is NOT a defender.

— Kevin Goodman (@KevinGo34002651) October 5, 2018
arnie, arnie, arnie….

Think this is game. Think maybe we were too confident after beating United, but Masuaku has to be the blame really, very very poor for Murray's goal.

— el rey 🏴󠁧󠁢󠁥󠁮󠁧󠁿 (@_whufcryan) October 5, 2018