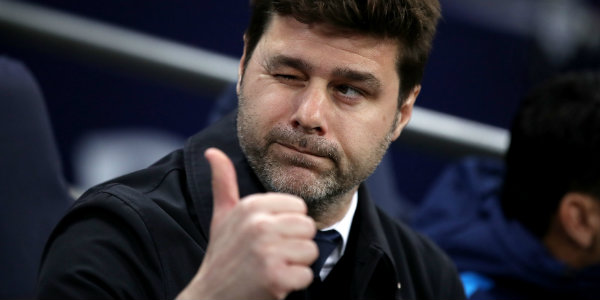 © Nick Potts/PA Wire
Tottenham manager Mauricio Pochettino is adamant he does not regret not adding to his squad in the summer – and pointed to his side's joint best Premier League start as justification.
Spurs became the first side not to make a summer signing since the transfer window's inception, but they have gone on to amass a joint club-record 18 points from their opening eight games, which included back-to-back defeats.
Chairman Daniel Levy hinted this week in a meeting with the Tottenham Hotspur Supporters' Trust that he was content with their summer activity, and Pochettino agreed with him.
"It was difficult to achieve the player we needed," Pochettino said. "That was impossible. I was happy and am happy with the squad that I have, 25 players.
"We have no regrets, we are happy. When we started the season with three games that we won and we were up at the top of the table people were talking in a different way, 'Oh how clever are Tottenham because they keep all the squad from last season'.
"After we lost some games all the alarms started to make a big impact in the perception. But I need to remind everyone that this is our best start after eight games, it is the best start in the Premier League for Tottenham.
"We have one more point than last season and I am not happy about that because we are fifth in the table and the ambition is to be on the top.
"At the same time we are realistic and with all the circumstance we suffered in the summer, with the World Cup and the players that arrived the week before the start of the season, the challenge was bigger for everyone.
"We kept fighting and we are very close to the top of the table.
"We are happy but we are trying to improve, trying to be ambitious and be top of the table.
Tottenham resume their Premier League campaign, where they have won their last three games, with a trip across London to West Ham on Saturday.
And they have better news on the injury front as Christian Eriksen and Mousa Dembele are fit again after respective abdomen and thigh problems.
Dele Alli (hamstring) and Danny Rose (groin) remain 10 days away from fitness and Jan Vertonghen (hamstring) still has a way to go in his recovery.
"It was a good time for us because we are going to recover a few players like Christian and Mousa Dembele," the boss added.
"Still maybe 10 days more for Dele Alli and Danny Rose is the same, one week more. Jan Vertonghen is a little bit longer.
"But the most important thing is that we start to recover players. It will be a tough month of competition for us.
"There are a lot of games ahead and it's so important to have nearly all the squad fit to compete and play and to give options to rotate and share the games because it will be tough, the months we have ahead.
"We have seven games in one month, in four weeks, and it's so important to have all fit to compete and to give the level that we want."