Harry Winks and Luka Modric go head-to-head for the second time in a fortnight when Tottenham play Real Madrid in the Champions League at Wembley on Wednesday night.
And stats published by Oulala.com reveal that 21-year-old Winks is outperforming former Spurs star Modric in a number of key areas in Europe's top competition this season.
Winks recently revealed Modric was one of his heroes and is eager to emulate the Croatian's playing style.
The pair came up against each other in Tottenham's 1-1 draw against Real at the Bernabeu on 17 October, a game in which Winks earned huge praise following his excellent performance.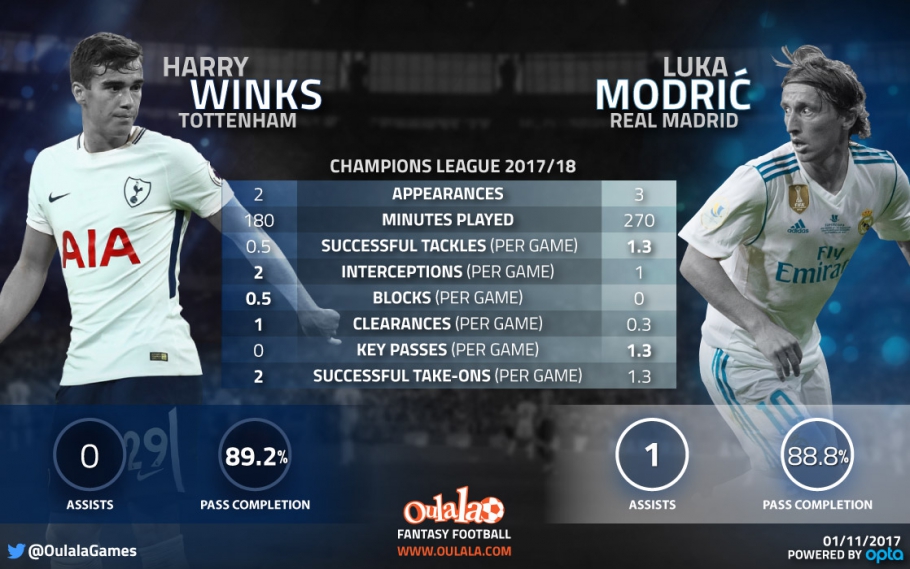 Number crunchers at Opta have analysed Winks' and Modric's stats in the Champions League group phase and the data shows the Spurs midfielder has outperformed the Real Madrid man in five key areas.
Despite playing one game less, Winks has bettered Modric for pass completion (89.2% to 88.8%). On a per-game basis, the Englishman has also made more interceptions (two to one), more blocks (0.5 to zero), more clearances (one to 0.3) and more successful dribbles (two to 1.3).
Tottenham and Real Madrid sit joint top of Group H with seven points. Both have scored seven goals and conceded two. Something has got to give.