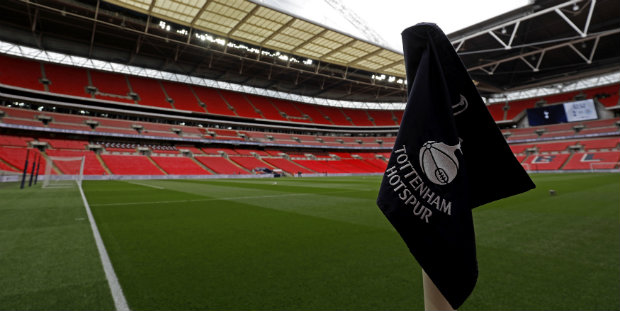 © Steven Paston/PA Wire
Aymeric Laporte has dismissed concerns about the Wembley pitch ahead of Manchester City's clash with Tottenham on Monday.
The Premier League encounter will take place the day after an NFL match between the Jacksonville Jaguars and the Philadelphia Eagles is played on the same surface.
There have been fears that Sunday's game could leave the ground in a poor state – one hardly conducive to the free-flowing attacking football favoured by City and Spurs – but Laporte is not concerned.
The City defender said: "I don't think it will affect us. We will concentrate on ourselves and that is the most important thing. The pitch is the same for both teams.
"It will be a difficult match for us. All the matches in the Premier League and the Champions League are difficult."
Laporte has been in outstanding form at the start of his first full season with City. The French centre-back has missed just one of the club's 14 games in all competitions, the Carabao Cup win at Oxford.
The 24-year-old now seems to have settled after a difficult period following his £57million move from Athletic Bilbao in January but he does not appear comfortable with the growing plaudits for his game.
He said: "I think perhaps I have had a bit more luck this season, or perhaps I'm doing something different but I'm just trying every day to improve and be a better player."
City head into the game in fine form after thrashing Burnley 5-0 and producing an outstanding performance to win 3-0 at Shakhtar Donetsk in the past week.
They remain unbeaten in their Premier League title defence but Spurs trail them by just two points heading into Monday's encounter.