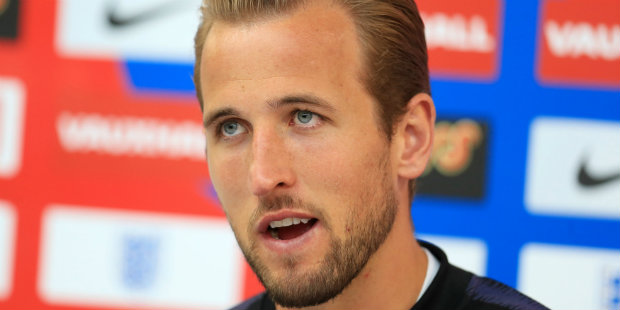 © Mike Egerton/PA Wire
Harry Kane is already playing catch-up to Cristiano Ronaldo in the World Cup scoring stakes but the England captain is hoping to start a goal spree of his own against Tunisia.
Ronaldo turned in a classic performance with a superb hat-trick as Portugal drew 3-3 with Spain on Friday, instantly turning up the heat on the rest of the tournament's top marksmen.
Kane happily ranks himself in that elite group and is eager to start chasing down the Real Madrid star in Volgograd when the Three Lions get under way on Monday night.
"For sure, he's put me under a bit of pressure. He's a fantastic player who had a fantastic game," said Kane on the eve of his first World Cup appearance.
"Hopefully I will score a hat-trick and we'll both be level. But it's not something I'll be thinking about until later in the tournament. It's about concentrating on the team."
As well as outrageous ability, one of Ronaldo's defining characteristics is an unquenchable self-belief which can at times threaten to spill over towards arrogance.
Kane is cut from an entirely different cloth, unshowy away from the pitch and unlikely to be taken for a movie star, but he is driven by the same core confidence that drives the very best.
Invited to expand on his journey from perpetual loanee to marquee player for club and country, he does so with pride and finishes with a flourish.
"Four years ago, I was watching it (the World Cup) on holiday," said the Tottenham man.
"I played the last six or seven games of the Premier League season under Tim Sherwood and then Mauricio Pochettino came in that summer.
"He got me fit, in better shape and more powerful. I kicked on from there with a lot of hard work and determination, there were players ahead of me at the time.
"I had to work hard on the training pitch and take the opportunities when they came. The last few years I've proved myself and now I'm here and I can't wait to get out there and show the world what I've got."