Sentiment aside, Harry Kane deserves to be Tottenham's highest-paid player – but it has to make financial sense for the club.
Not only does Kane fit a string of criteria for negotiating as the highest earner, he also symbolises Tottenham's philosophy and sets the benchmark for professionalism.
Every contract negotiation involves two arguments – the club's side and the player's side (negotiated by his agent) – and an agreement is reached somewhere in the middle. The first point of argument for an agent is the player's status and influence at the club, and Kane's is peak on both counts.
When Mauricio Pochettino took charge in 2014, Tottenham embarked on a philosophy of bringing through young players from their academy, preferably English ones, and developing them into a top team ready for their new stadium in 2018.
Kane grew up less than five miles from White Hart Lane, joined the academy when he was 11, broke into the first-team under the current manager, was the Premier League's top scorer last season, is vice-captain at 23, and has become a fully-fledged England international within this period.
Pochettino's second priority has been to rid the club of unprofessional attitudes, and Kane is exemplary both on and off the pitch. He is fiercely committed to training, self-improvement and helping team-mates, and his influence was stark in its absence during a recent injury.
While it began to surface that new contract talks were being shelved, the team's inferior trust in new striker Vincent Janssen contributed to a drop in confidence and results, and Kane's significance was obvious after an upsurge in performances and a first win in eight when he returned.
Kane is known to be uninterested in alcohol and the night-time drinking culture too, and shows passion for helping his local Enfield community, recently stating a long-term desire to represent the club on this front as its captain. He's what Americans would call a 'franchise leader'.
The second point of argument for an agent is whether the player has, or potentially has, the highest value on the market compared to the rest of the squad – in the current market, he could arguably be worth upwards of £50m.
As a striker, Kane is also likely to command a higher transfer fee than any of his squad-mates. Top-class centre-forwards have never come at more of a premium – the most recent big deal involving one of the top-five league's top-scorers was Gonzalo Higuain from Napoli to Juventus for £75m last summer.
An agent would also argue what his client stands to earn in a similar position at another club and an available Kane could court the likes of Real Madrid and Manchester United, who pay their stars upwards of £200,000 per week. Kane currently earns around £60,000 a week on his deal until 2020.
Also on an agent's mind might be his player's statistics compared to the best in the same position in Europe. A look at the top scorers in Europe's top five leagues last year shows Kane is close to the best, playing in an arguably more difficult league.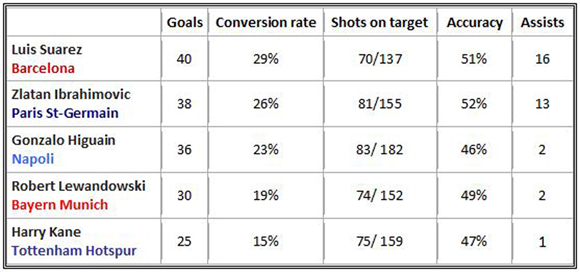 But then there is the club's case, and its principle arguments will revolve around wage policy and structure, and its current financial predicament.
Since "the number cruncher" Rebecca Caplehorn arrived as head of football operations from QPR, Spurs have implemented a shrewd wage policy based on lower base salaries and more performance-related incentives.
The club are understood not to be prepared to pay any player more than £100,000 per week as a basic rate, and Kane's contract is described as "mid-tier" at £60,000, which suggests it is at the top end of a middle band between £35,000 and £65,000.
Captain Hugo Lloris earns £80,000 per week while Christian Eriksen earns £75,000, so Tottenham would have to argue why Kane does not deserve to earn the same or more than those in the top band, should they not agree he should be the highest paid.
They might say he is not as experienced at international level, for instance.
Lloris has 85 caps for France and Eriksen 66 for Denmark, while Kane has just 15 for England. Or they might argue he is still not as experienced at club level. Lloris has made 358 top-flight appearances across two leagues, and Eriksen 223. Kane has made 91.
The club are also known to be actively cost-cutting due to the massive expense of the Northumberland Park development and this is the key reason for their tight wage plan. The chairman has demonstrated Spurs' need for prudence by breaking even in all but the most recent transfer windows since the summer of 2014.
Clubs also argue the potential for inferior status and influence a player might have at a different club, and Tottenham could argue that Kane would not be anywhere near as loved elsewhere as at the club where he is considered "one of our own".
They might say that, at Manchester United for example, he would not be guaranteed his first-team place, or at Real Madrid would not be as revered as Cristiano Ronaldo or Gareth Bale.
But should Kane continue to score prolifically and be the catalyst for Spurs winning games, it is increasingly difficult to argue he could not be as talismanic elsewhere.
The final major concern of a club is the potential for a player's wage rise to affect the rest of the team, and stir other agents into demands for bigger contracts for their players.
But would Kane's team-mates begrudge him as their highest earner? Would Lloris or Eriksen feel hard done by if Kane at least reached parity? Only they can answer that question but, in gauging their public attitude towards Kane, it seems unlikely.
Just as long as the club can afford it.