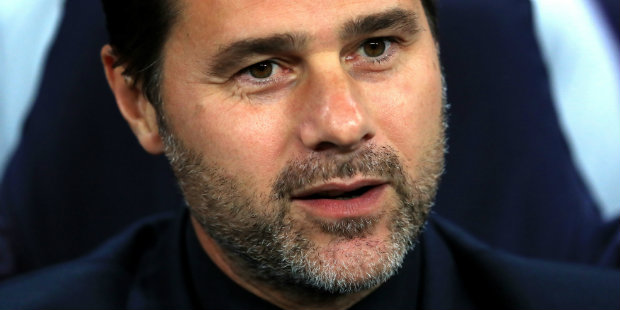 © Mike Egerton/PA Wire
Mauricio Pochettino refused to blame Hugo Lloris despite the goalkeeper's sending-off almost certainly costing Tottenham their place in the Champions League.
Spurs were leading PSV Eindhoven 2-1 in Holland with 11 minutes to go when Lloris charged out of his area and upended Hirving Lozano to earn a straight red card.
The 10 men promptly conceded an equaliser to leave both sides on just one point after three matches in Group B and facing the prospect of little more than a scuffle for third place and the Europa League.
PSV's opening goal also came from a mistake, by Toby Alderweireld, but Spurs boss Pochettino laid the blame at his side's failure to take their chances rather than the brain fades at the back.
"I think it's easy to judge the game," he said. "If you didn't win following what happened then you don't deserve to be in the Champions League.
"This type of game, when you dominate and are much better and have the possibility to win the game, at the end that can happen.
"An action that was our keeper Hugo sent off, and afterwards with 10 men you concede chances. With the chances they scored and then it's 2-2. Clearly that's the analysis.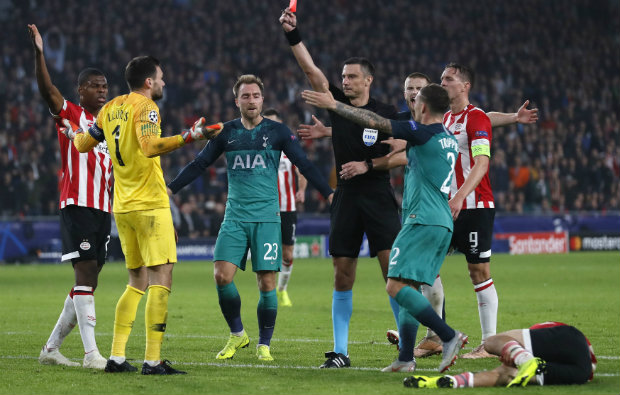 "I'm not going to blame any player. If someone is to blame it's myself, I am responsible for the team. Not the player.
"Players are there to play. The problem is when you are so good, you dominate the game and create the chances and you can't kill the game.
"Then an accident from Hugo and the decision didn't help us, and you draw and it puts our qualification for the next stage in a difficult position.
"Was it a red card? In my opinion I think no, but we cannot blame the referee.
"Now we need to win three games that we have to play and some results that help us to achieve a place for qualification – but it's difficult."

Video: Hayters TV
Spurs may have made their best start to a Premier League season but their European campaign has been beset by self-inflicted wounds, from the late collapse at Inter Milan to Lloris' gaffe against Barcelona.
And when PSV's opening goal arrived, shortly after Harry Kane had clipped the crossbar, it was also of Tottenham's making, with last man Alderweireld caught in possession by Lozano who ran through to score.
Lucas Moura equalised before half-time and when Kane nodded in a cross from fit-again Christian Eriksen Spurs looked destined for victory.
But Lloris injected further drama into the tie when he raced outside the area and cleaned out Lozano to earn a straight red card.
It proved costly in the extreme as back-up keeper Michel Vorm held out for all of seven minutes before the ball reached former Newcastle loanee Luuk De Jong in the area and he prodded the equaliser.
"This result leaves us in the same position in the ranking," said PSV coach Mark van Bommel.
"Of course we wanted to win. It was a heavy night for us. We were leading, but then it is 1-1 and 2-1 and we had some difficulties against a really strong opponent. In the end we have to be happy with a point."