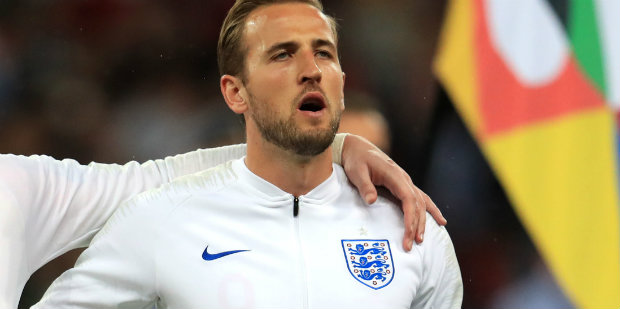 © Mike Egerton/PA Wire
We may be in 2021, but this summer we see the conclusion of Euro 2020, with the final right here in London. Who will lift the Henri Delauney trophy on 11th July? We looked at the top betting online sites to find the latest odds and we present the results below. In descending order, these are the favourites to win Euro 2020 (accurate as of 1st May).
England (5/1)
England are joint favourites, and with the benefit of home advantage in the group stage, semi-finals, and the final, this makes sense. On the other hand, Harry Kane's hamstring is a worry for Gareth Southgate. Can England avoid choking in a major tournament for the first time since 1966?
France (5/1)
The World Cup holders have the strength in depth to become European champions too (just as they did in 2000). They find themselves in the group of death alongside Germany and Portugal, though, so can't afford to start as slowly as they did in Russia.
Belgium (6/1)
Romelu Lukaku (28) is at his physical peak and has just come off the back of an excellent season with Inter. But Kevin de Bruyne, Eden Hazard, Dries Mertens, Toby Alderweireld, and Jan Vertonghen are all the wrong side of 30. This could be the last chance for the Belgian golden generation before it gets a little too long in the tooth.
Germany (7/1)
This will be Jogi Loew's last tournament in charge of die Mannschaft, and what a weak Mannschaft it is. The defence has barely 100 caps between them. Their star striker has just come off a terrible season at Chelsea. They find themselves in the Group of Death. But as we are talking about Germany, they will probably go on to win it, beating England in the semi-finals. 
Portugal (8/1)
For the first time in almost two decades, Portugal is no longer reliant on Cristiano Ronaldo. Despite their tough group, the Portuguese should come out of it unscathed, and could go all the way, just as they did in 2016. 
Spain (8/1)
Spain has a strong squad, are at home in the group stage, and beat the Germans 6-0 at the end of last year. The Spaniards look like good value at 8/1. 
Italy (11/1)
Roberto Mancini is coaching a solid, high-scoring Azzurri squad which reminds me of the 2006 team, in that there are no obvious stand-out names, but plenty of star quality. The Italians are at home for the group stage, and should make easy work of Wales, Turkey, and Switzerland. If they can continue the old Italian traditions of improving as the tournament progresses, look out. 
Netherlands (12/1)
The Dutch possess one of the least impressive squads in recent memory. But a weak side of the draw could see them make the semi-finals, where they would probably take on England at Wembley. 
A bunch of solid middle-ranking European teams (28/1 to 125/1)
Next up are several decent teams who often seem to do well in finals, but always seem to fail at the final hurdle. These include 2018 World Cup runners-up (and England slayers) Croatia, 1992 surprise winners Denmark, and Switzerland, who will surely win the prize for most dull team of the tournament. 
Scotland (150/1)
The tartan army are in the same group as England and will play at Wembley in the middle group game. Croatia and Czech Republic will be their main rivals for second place. Scotland are strong at Hampden, so can't be discounted.
Wales (150/1)
Wales are in Italy's group, and won't have the home advantage that Scotland enjoy. Apart from a visit Rome. Wales must also travel all the way to Azerbaijan to take on Turkey and Switzerland. A lot depends on Gareth Bale. Does Baku have golf courses? That will be the main question for Welsh fans. 
Finland (500/1)
Bringing up the rear comes Finland, in their first ever appearance at a major international tournament. They don't have many star names in their squad, although Norwich's Teemu Puuki will be expected to bang in the goals. Still, they are in a group with Denmark and Russia, who aren't that much better than the Finns, so they could make it out the of the group stage.
So there you have it. England is joint favourite to win the Euros for the first time, with Scotland and Wales just looking to emerge from their groups. 
But that's just the view of the bookies. Those clowns gave Leicester City odds of 5000/1 to win the Premier League in 2015-16, and look how that turned out.