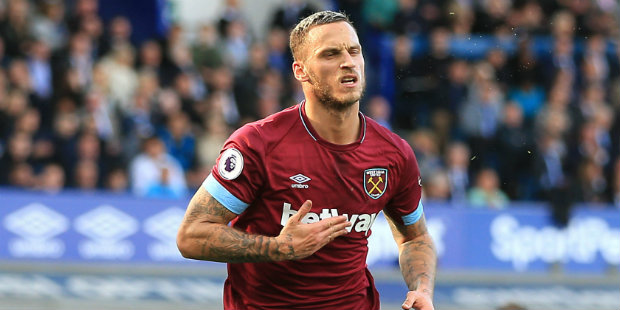 © Peter Byrne/PA Wire
Professional sport is evolving. As time goes by, certain adjustments had to be made in order to remain competitive on the market and at the same time, attractive.
One of the topics many are debating about is the involvement of the big bookmakers in sports, and particularly their role in sponsorship deals. Now, the majority of punters are more interested in making profits from the bookies, rather than to know which one of them has a contract with, let's say, West Ham.
An ordinary football fan is all about finding a winning betting tip. Period. He doesn't want to know anything about sponsorship deals. But the recent trends make this topic popular as well. By the way, when mentioning winning picks, we have a nice offer for you here. Be sure that you won't regret looking at it, take the football experts' words for it, when considering where to wager your hard-earned money.
Now, some say that the cooperation between the clubs and bookies improves the quality of events and the overall experience of the fans. Meanwhile, others disagree, claiming that it ruins the foundations of the sports in general.
Over the past decade, a lot of big brands from the betting industry decided to enter the field of sports through sponsorships. To see one bookmaker's name on the shirt of one football club is an ordinary thing. However, ten or fifteen years ago, that wasn't the case. Let us present to you the evolution of this process.
Back in 2002, we witnessed the first agreement between one Premier League team and a bookmaker. Fulham signed a deal with Betfair, that will change the history of this competition. The Cottagers' were the first team with one gambling brand's name on their shirt.
Ever since, the business bond between the Premiership clubs and the bookies grew stronger. Professors Rebecca Cassidy and Nike Ovenden executed research which brought fascinating results. During an average Match of the Day program, the name or the logo of various bookmakers is noticeable for almost one-third of the game time. It is a fascinating thing having in mind that some 17 years ago, we could barely see any relations between the two entities.
At the moment, half of the Premiership teams have bookmakers as their main sponsors. We will just mention some of them. West Ham and Betway, Norwich and Dafabet, Burnley and LoveBet, Everton, and SportPesa.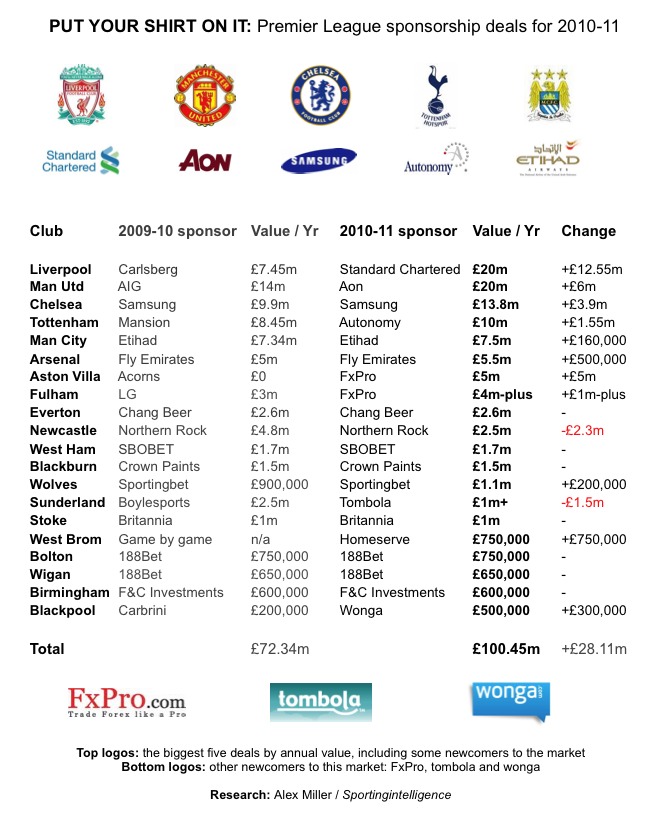 Although neither of those deals is among the top six sponsorships in the Premiership, their pace of growth is remarkable, and while all others stagnate, the ones involving bookies are improving from year to year. And we have proof of that.
Also, don't be deceived with this list, and think that these top six clubs don't have ties with gambling brands. Liverpool's main sponsorship deal is with Standard Chartered, but they have a partnership with BetVictor, who is their training kit's official sponsor. Arsenal, for example, struck a deal with VBET for becoming their official betting and gaming partner.
This is not the case only with the football in England, but a wider phenomenon. If you take a look at other European top national leagues, you will see the same. Remember that BWin used to be Real Madrid's official sponsor between 2007 and 2013. They were also Bayern Munich's official gaming partner from 2012 to 2015.
Now, besides clubs, even some competitions had betting brands as their official sponsors. For example, Ladbrokes and the English Football League Cup had such an arrangement.
Although Europe was considered to be a stronghold of sports betting and business ventures between the betting and sports industry, lately we see that European gambling brands are slowly starting to make their breakthrough in other markets. The most recent is North America, particularly the USA.
Back in 2017, the Supreme Court lifted a federal ban on sports wagering in the United States of America. It was a signal for all the overseas bookmakers to start exploring the very rich and prosperous market.
Recently, we observed the consequences of that action, as Unibet became Philadelphia Eagles' first-ever "casino partner." One month ago, the same brand became a partner of the New Jersey Devils, starting its aggressive marketing campaign, which will no doubt continue to fill in the media headlines.
So, as a conclusion of this article, we need to acknowledge the more growing relationship between the sports and betting industry. As much as some might not like this, it is a process that will continue. The reason for that is simple – money. As long as it creates enough financial resources to keep both parties satisfied, everything will be fine. We can talk about the positive and the negative effects of it, but that is not the topic of this text. One thing is certain, we are yet to see the results and increase of this partnership.