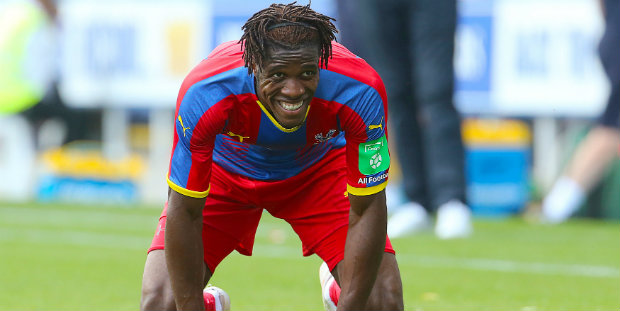 © Mark Kerton/PA Wire
Troy Deeney has admitted Watford recently took it in turns to kick Wilfried Zaha.
Deeney has revealed that a plan based around fouling Zaha was devised to stop the Crystal Palace forward during the 2-1 Premier League victory at Vicarage Road on August 26.
The striker's comments come in the wake of a plea from Zaha to be given more protection by referees due to his belief that he is deliberately targeted by opponents.
"You take it in turns kicking him," Deeney told BBC Radio Five Live.
"I know no one wants to hear that, but you go: 'You hit this time, you hit him the next time'. You don't have the same player tackle him because you know you're going to get booked."
Deeney insists Zaha's protest against the physical treatment he receives, combined with his reputation for diving, can be used to manipulate referees.
"It's difficult, but also as a captain I'd be the first… if we were playing him this week and he'd just said those comments I'd have been like: 'Ref, don't you be the first one to give him a pen. Don't you start going easy on him'," he said.
"You can then flip it and start being more psychological with the referees."
Deeney has been cleared for Saturday's trip to the Emirates Stadium despite playing with broken toes in last weekend's 1-1 draw with Fulham.
He sat out the Carabao Cup defeat to Tottenham in midweek but Watford boss Javi Gracia has revealed the in-form marksman has been taking a full role in training.
"I don't have a doubt about that – he's available. He's trained very well this week with us. He's fit," Gracia said.
Christian Kabasele has been cleared to face Arsenal after successfully appealing against the red card shown against Tottenham on Wednesday.
Kabasele was sent off by referee Lee Mason for a foul on Dele Alli in the 81st minute at Stadium MK, with the Spurs midfielder scoring the resulting penalty.
A statement from the Football Association read: "Christian Kabasele's one-match suspension has been withdrawn with immediate effect after his wrongful dismissal claim was upheld."