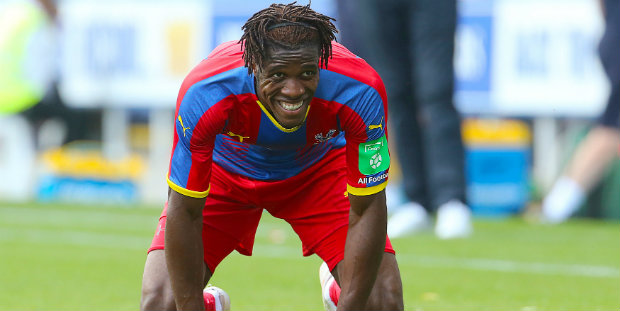 © Mark Kerton/PA Wire
Roy Hodgson has dismissed fears Crystal Palace could be without the injured Wilfried Zaha for the coming months, revealing he is in contention to return against Everton on Sunday.
An adductor injury forced Zaha's withdrawal from the Ivory Coast squad during the international break but – despite reports of a lengthy lay-off – Hodgson hopes his most influential player could train on Saturday.
Palace's last Premier League victory without him came at Sunderland in September 2016 under Alan Pardew.
Sam Allardyce and Frank De Boer also managed the club before Hodgson's arrival, but they remain as reliant on him than ever, and the latter said: "He hasn't trained with us since the injury, but we are hoping that he will train, and if he does, I guess he will be available to play.
"I don't know where that information that this is a two-month injury came from. We have never been mindful that it could take such a long time; it is a strain that players get on a fairly regular basis.
"Some recover quicker than others; in Wilf we are fortunate that he is quicker than normal. But it will depend upon the extent of the injury whether one week is a possibility in terms of the recovery.
"He's influential to our team, but if you look deeper at the statistics, it doesn't paint the picture it sometimes sounds when you talk about it so starkly. We have lost a lot of games with him as well.
"We do know how important he is to us and everyone understands that, but we also believe that as a team, when the day comes that we can't play with him for a period of time that we'll still be capable of winning, because we believe in ourselves.
"But all the time the statistic is there, we will have to accept that."
Christian Benteke's absence as he recovers from a knee surgery, combined with further late fitness tests for Alexander Sorloth and Max Meyer, who are struggling with a virus, makes Zaha's availability even more essential,.
They have also won only twice in the league so far this season, but Hodgson said: "We have been quite fortunate with injuries this year.
"Christian's is a blow and it is something he has been fighting and trying to deal with for a long time.
"We may have lost a couple of players to a viral infection, and picked up an injury with Joel Ward, but our squad is big enough to handle those things."