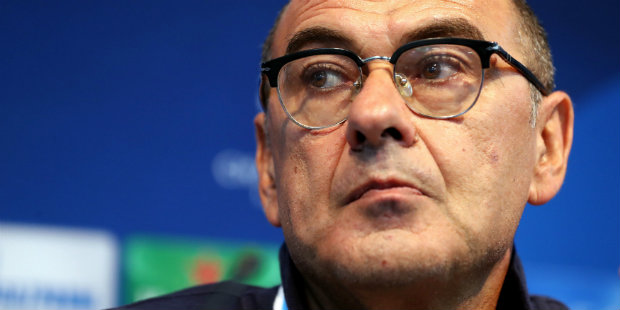 © Martin Rickett/PA Wire
Maurizio Sarri wants to see tears from Alvaro Morata after the striker's winner in Chelsea's 1-0 Europa League victory over Hungarian champions Vidi on Thursday night.
Morata missed a host of chances in the opening Group L win at PAOK in Greece two weeks ago and spurned a glorious opportunity in the first half at Stamford Bridge.
Sarri praised an improved all-round display from the 25-year-old, recalled into the Spain squad earlier on Thursday, which was capped by the winner 20 minutes from time and an emotional celebration.
"If after a goal he wants to cry, I hope to see him cry very often," the Chelsea head coach said.
"It's very important for him to score. I think it's very important for him to play a very good match. He played a very good match.
"It's very important for him to play for the team, like this evening. I think Alvaro can restart from this performance."
It was just Morata's second goal of the season – his first was in August's Premier League defeat of Arsenal – and Sarri reiterated the striker's importance to the team.
"At the moment we have Alvaro and (Olivier) Giroud, but we have to play every three days for a long time, I think, I hope," Sarri added.
"And so he's a very important player for us, for our season."
Chelsea were wasteful in front of goal for a second successive Europa League game, but Sarri was more concerned by the chances presented to Vidi.
He added: "We have created a lot of goal opportunities but we have conceded two, three opportunities to the opponents.
"I am not worried if we don't score for 45 minutes. I was not happy, but I think it can happen. I was worried about the fact that we have conceded three goal opportunities to the opponent, for our mistakes."