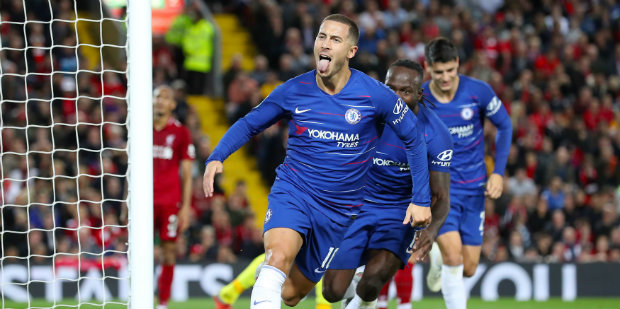 © Martin Rickett/PA Wire
Gianfranco Zola felt Eden Hazard's superb late winner in the 2-1 Carabao Cup win at Liverpool served as proof that the Belgian is one of the best players in the world.
Hazard, having come off the bench, fired in at the end of a wonderful run in the 85th minute of the third round tie as the visitors came from behind and halted the Reds' winning start to the season.
It was put to Chelsea assistant boss Zola afterwards that Sky Sports pundit Jamie Carragher had described Hazard as the Premier League's best player, and the Italian said: "I would like to add something on top of that.
"I think Eden is one of the best players in Europe and one of the best players in the world, for sure, and what he's done today, that goal, is proof of that.
"He is getting better and better. He is doing the right things at the right moment and in a wonderful way.
"I think Jamie is correct in what he says."
Hazard told Sky Sports when asked if the goal would make his top five: "I don't know, I need to watch it again, but for sure it's on top of the list also because it's Liverpool."
As well as scoring, Hazard, who came on just before Daniel Sturridge's acrobatic 58th-minute opener, was also involved in Chelsea's equaliser in the 79th minute.
He delivered a free-kick into the box, where Ross Barkley's header was palmed away by Simon Mignolet and Emerson Palmieri prodded in.
The incident went to a VAR review for offside before the final decision was made that the goal should stand.