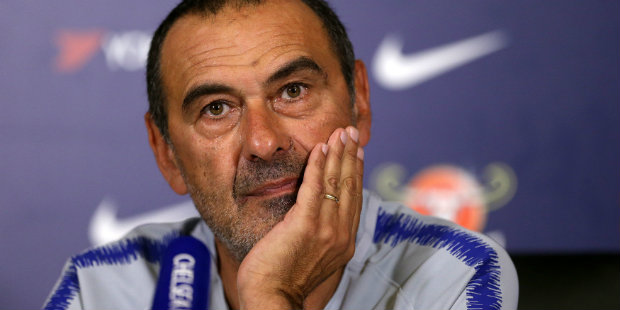 © Steven Paston/PA Wire
Chelsea head coach Maurizio Sarri has predicted Ruben Loftus-Cheek will grow in importance for the Blues this season.
The 22-year-old midfielder shone on loan at Crystal Palace last term, earning a place in England's World Cup squad, but remains on the first team periphery as Chelsea have begun the season with three wins from three games.
Loftus-Cheek has been retained in Gareth Southgate's England squad despite playing only 22 minutes for Chelsea this term, as a substitute in the opening day win at Huddersfield.
"I'm very, very happy with him. Because in the last 10 days he has improved a lot," said Sarri, speaking ahead of Saturday's Premier League clash with Bournemouth.
"I think that he will be important for sure. Starting from September we will play every three days. I think Loftus will be very, very important and very useful to us."
Those games will include the Europa League, which on Friday saw Chelsea drawn in Group L to play Greece's PAOK, BATE Borisov of Belarus and Vidi of Hungary. Sarri did not wish to comment on the draw.
Asked why midfielder Loftus-Cheek has not featured more so far, Sarri pointed to the tactical tinkering he has undertaken with the Blues.
"He has to improve, just in order to play my football," the former Napoli boss said.
"He has great qualities, from the physical point of view, from the technical point of view. I think he needs to improve from the tactical point of view.
"If he will improve more, he is ready to play from the beginning."
Like Chelsea, Bournemouth are unbeaten, and the Cherries won at Stamford Bridge in January.
Sarri knows Bournemouth boss Eddie Howe well, having exchanged ideas with the 40-year-old when at Empoli. Sarri also took his Napoli side to Bournemouth for a pre-season friendly in 2017.
The 59-year-old Italian added: "I know him very well. I think he's a very interesting young coach.
"I think he will make a mark in the English football in the future.
"They are very dangerous opponents for us I think. They are well organised. They are dangerous in counter attacks.
"So I think the match will be very difficult."