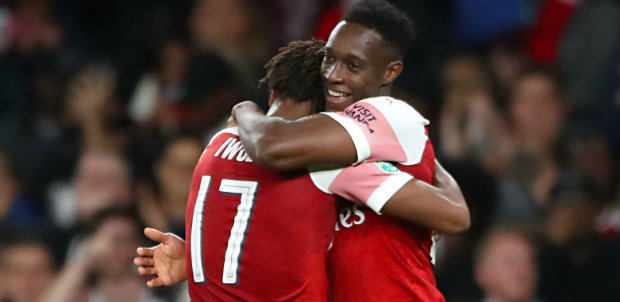 Arsenal forward Danny Welbeck has vowed to return "stronger than ever before" following two operations to repair his broken ankle.
Welbeck, 27, faces a lengthy spell on the sidelines after suffering what the club described as a "significant" injury in last week's goalless Europa League draw against Sporting Lisbon.
On Tuesday evening, the striker posted a picture of himself on Twitter, giving the thumbs up while standing with crutches.
He wrote: "Back home… Thanks for all the love and support. No doubt I will be back stronger than ever before. Recovery grind starts now"
In an update from the club on Monday, no timeframe had been set for Welbeck's recovery, but Arsenal said the procedures "went well, without complications"
Head coach Unai Emery had arranged for Welbeck to share a FaceTime call with his team-mates in the Emirates Stadium dressing room as they prepared for Sunday's Premier League match against Wolves, which ended 1-1.
Despite the loss of Welbeck, for what could run into several months, Emery suggested the Gunners would not look to sign reinforcements to their frontline when the transfer window opens again in January.
The injury will also see Welbeck drop out of the international picture, having been initially named in the England squad for the upcoming matches against the United States of America and Croatia.