Does Mesut Ozil go missing in the big games?
That was the scathing assessment of the Arsenal midfielder by former Chelsea manager Glenn Hoddle following the Gunners' 3-1 defeat to the league leaders on Saturday.
But is Hoddle's criticism of the German just a well-repeated, yet unjustified, cliche?
Daily fantasy football game Oulala.com has published stats which focus on Arsenal's record with Ozil against the other 'big six' Premier League teams, as well as his individual contribution.
Since September 2013, when Ozil made his league debut, the 28-year-old has faced Chelsea, Liverpool, Manchester City, Manchester United and Tottenham a total of 27 times.
Ozil's best return is from games against Liverpool – although he has only two wins from five, a win-rate of 40%, it is still better than his record against the other four sides.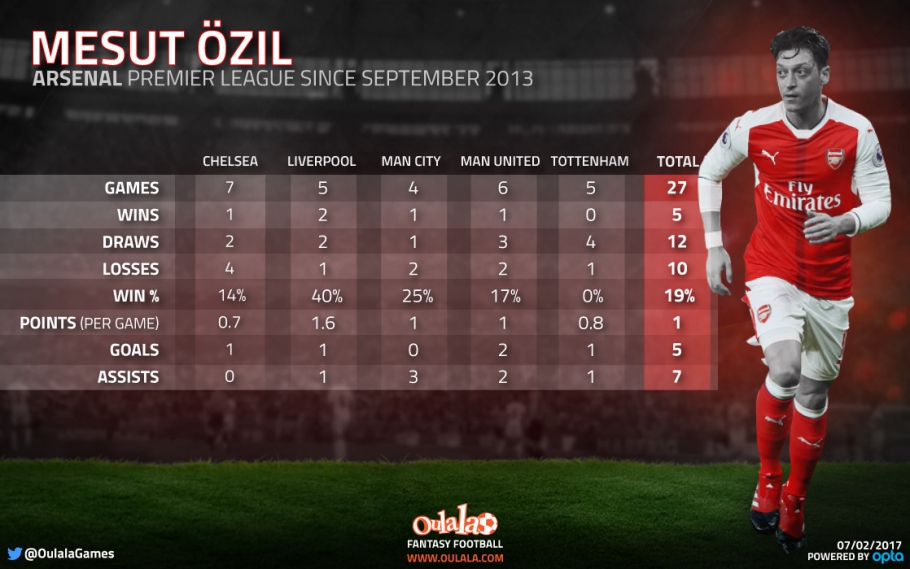 His worst record has come against Tottenham, with the German still yet to register a Premier League win in a north London derby.
He has recorded the most draws against Spurs, four in five games, while his most losses have come against Chelsea, losing to the Blues four times in the seven matches in which he has featured.
Individually, the stats show Ozil performs best when he faces Manchester United, scoring two and contributing two assists in six games.
His poorest individual record is against Chelsea, having netted just one goal in seven league games.
Overall, Ozil has faced the other big-six sides 27 times in the Premier League and Arsenal have won five, drawn 12 and lost 10.
The Gunners have registered a win rate of 19 per cent and have averaged one point per game – but, given the midfielder has contributed a total of five goals and seven assists in the 'big games', perhaps the blind spot is Arsenal's, not Ozil's.