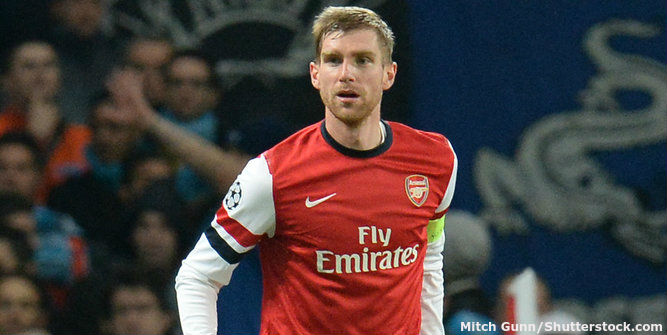 Per Mertesacker says being made Arsenal captain has given him extra motivation to recover from his injury and produce his best form again.
The German defender, 32, has not featured this season because of a knee problem but is determined to play a key role again for the Gunners.
"To be named Arsenal captain, and by a manager who's served here for 20 years, is a very good feeling," he told the club website.
"I feel really confident of having a good role, of taking that responsibility and having a great season as a captain. That's what you want from yourself, for the team and for the club.
"To be named captain is great, but that won't change my mindset, my work ethic or what I stand for. It has been a great five years and being named captain is definitely the peak.
"I want to make sure that we are successful as a group, and the first thing to take care of is to be myself.
"It was even bigger for me to be named captain despite being injured. That gives me huge motivation to come back but I cannot play the part I want to play.
"I want to be fit and I want to contribute on and off the field. While I'm struggling with my injury, we've got good players and leaders around here to take the responsibility while the captain is out."
Arsene Wenger's side are next in action on Saturday, 15 October, when they face Swansea City at the Emirates Stadium.