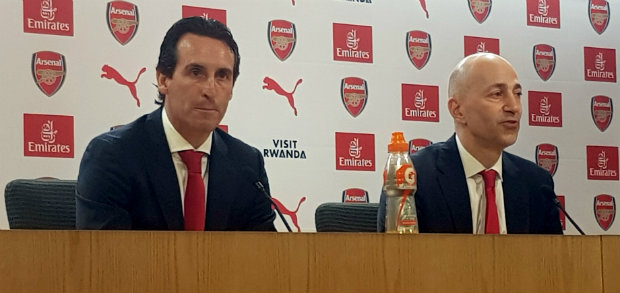 © Mark Mann-Bryans/PA Wire
New Arsenal head coach Unai Emery is targeting Premier League success after winning a three-horse race to be appointed to a job labelled the "most attractive" role in football by chief executive Ivan Gazidis.
The 46-year-old old signed a three-year deal on Wednesday to replace Arsene Wenger at the Emirates Stadium as the club look to the future with a new structure and a fresh face as the figurehead.
Wenger left the club at the end of the season following 22 years in charge with Emery now tasked with improving on a sixth-placed Premier League finish last season.
The former Paris St Germain boss spoke in English at his unveiling as he targeted a return to Premier League glory.
But, while Emery declared his pride at his latest post, it was Gazidis' words which were arguably more impressive as he claimed no one interviewed for the job then went on to withdraw from the process.
"We believe there is not a position in world football that is more attractive than Arsenal Football Club," Gazidis said.
"Having gone through that process and series of references, and a good deal of analysis, we created a long list, an eight-person list.
"All of those eight people that we approached, that we targeted, were interested in the position and all of those eight people took part in extensive, in-person interviews with us and none of them at any stage withdrew their interest."
Gazidis was joined by head of football relations Raul Sanllehi and Sven Mislintat, Arsenal's head of recruitment, in the initial interview process – the pair's appointments over the last year proof that the club are moving away from the autonomy under Wenger.
The process of replacing the outgoing Frenchman had seemingly led former club captain Mikel Arteta – currently working as an assistant to Pep Guardiola at Manchester City – to the job.
But despite reports the 36-year-old was set to be announced, it was his fellow Spaniard who Gazidis insists emerged as the preferred candidate.
"We set aside a day when we got to the end of that process," he said.
"We went through a pretty wide-ranging discussion, challenging each other as much as we could on preconceptions and assumptions we might have had going into the process.
"All the way going through the process, Raul, Sven and I spoke to each other as little as possible. Because we didn't want to pollute each other's viewpoints from the discussions we had had.
"We wanted to come to the discussion fresh when we had been through all eight of the final candidates. We narrowed it down to three.
"We spent an entire day discussing among those three. At the end of the day, three of us all wrote on a piece of paper, one, two, three, and put them into the middle of the table. And the choices were all one, two, three the same. And Unai was at the top of all of our lists."
Emery, decked out in a club suit, said he felt equally enthused following his meetings with the recruitment panel.
"The first meetings with Arsenal people were with these three people who, after three hours, I had a very good feeling about working together and that we could create a new present and future Arsenal," he said.
"Thank you, Arsene Wenger, for your legacy. For all the coaches over the world, he's a reference and I learned from him all the things in football."
The former Valencia and Spartak Moscow boss, who won three successive Europa League titles at Sevilla before moving to Paris, also set out his ambitions to challenge for honours as soon as possible.
"I believe in the players who are here," he added.
"The objective is to work together, to work hard with this talent. The target is to be a candidate and to challenge for the title.
"It is very important for the club after two years outside the Champions League to work this way, to be the best club, the best team in the Premier League and also in the world."