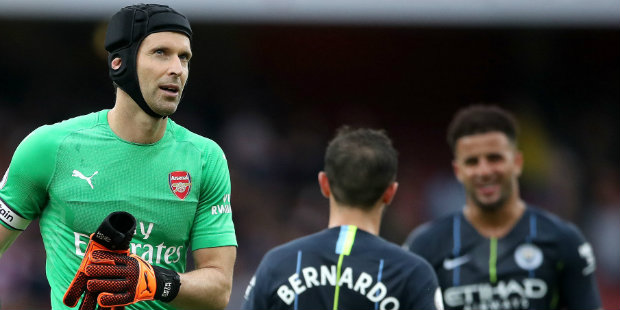 © Nick Potts/PA Wire
Tiger Woods lifted the Tour Championship just hours after Arsenal had seen off Everton across the Atlantic – and Petr Cech believes there are comparisons between the Gunners' wait for a Premier League crown and the American's decade-long run without a major.
Severe back problems and issues away from the fairway had seen Woods, a 14-time major winner, struggle to get back to his best in recent years.
However, a return to form in Atlanta over the weekend saw the 42-year-old win the Championship as he now targets another of golf's biggest prizes.
Arsenal, meanwhile, are rebuilding under new boss Unai Emery having not lifted the Premier League since they went unbeaten throughout the 2003/04 campaign.
Like Woods, Arsenal have tasted success in that time, winning four FA Cups under former boss Arsene Wenger in the intervening years.
But the wait for the big one goes on and, speaking after Alexandre Lacazette and Pierre-Emerick Aubameyang scored to seal a 2-0 victory over Everton, Cech drew parallels between Woods and Arsenal.
"For any club who wins titles in the recent years, you have a team with the know-how to finish it off and you can see it in any sport," he said.
"I take Tiger Woods – 10 years since he won a Major tournament and the longer it goes, the harder it becomes. This club hasn't won the league for over 10 years so obviously you need to get back into knowing how to do it.
"We started with the new manager from scratch basically and we try to get this mentality of winning every game, progressing every game, working every day and hopefully we can build this up and win the title sooner rather than later. That will make the big difference."
Former Arsenal midfielder Santi Cazorla, who left in the summer to rejoin Villarreal, claimed over the weekend that the club lacked the belief in Wenger's final seasons to put themselves back among England's elite.
The Frenchman ended his 22-year tenure with a disappointing sixth-placed finish last season and Cech feels there is an added impetus on addressing recent shortcomings now Emery has taken charge.
"What we lacked in the past…I would say the Arsenal way was more important than getting the points sometimes and this is not sometimes how you win the league," he said.
"Sometimes you need to make sure you win an ugly game, when you are not playing completely well but you just dig deep, close the back door and win 1-0 no matter how."