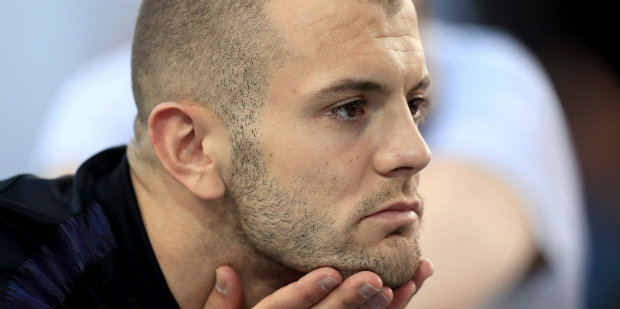 © Mike Egerton/PA Wire
England boss Gareth Southgate believes Jack Wilshere will be available for Arsenal's game against Stoke City on Sunday.
The injury-plagued midfielder missed England's game against the Netherlands last week because of a knee problem and has also been ruled out of Tuesday's clash with Italy.
But Southgate believes the injury is not serious and that Wilshere will quickly return to action.
"I've no reason to believe that he wouldn't be back for their next game," Southgate said at a press conference on Monday afternoon.
"It's an ongoing issue that he has to manage. It wasn't going to be ready for him tomorrow for us, but I'm pretty certain he'll be back for Arsenal's next game."
However, Southgate acknowledged that Wilshere's absence so close to this summer's World Cup will make it more difficult for the player to earn a place in England's squad for the tournament.
"I don't think it's too late for anybody," Southgate said. "It's obviously more difficult, because there's a couple of guys that have been in squads haven't had the chance to play for us.
"We'll still be monitoring everybody between now and the end of the season because there's probably a squad of 31 or 32 players that would be in contention and none of us know what's going to happen over the next eight to 10 weeks."
Meanwhile, Mohamed Elneny has signed a new long-term deal at Arsenal.
The midfielder, who will play for Egypt during this summer's World Cup, has made 65 appearances for the Gunners.
Elneny arrived at Arsenal in January 2016 from Swiss outfit Basel, where he won three Super League titles.