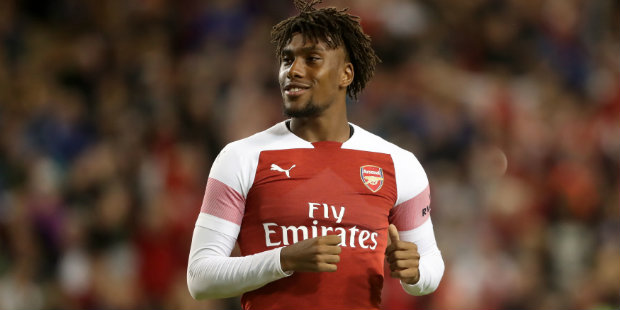 © Niall Carson/PA Wire
Arsenal got their Europa League campaign of to a winning start by beating Ukrainian side Vorskla Poltava 4-2 at the Emirates Stadium.
Pierre-Emerick Aubameyang scored twice and there were also goals for Danny Welbeck and Mesut Ozil.
But much of the praise from Arsenal fans on Twitter went to Alex Iwobi, who had another excellent game.
Much maligned in the past, Iwobi continues to blossom under new boss Unai Emery.
Alex Iwobi has grown into a beast of a man. Very imposing indeed.

— daveyjg (@daveyjg) September 20, 2018
Unpopular opinion: Alex Iwobi has actually been a different player this season. Has his promise back.

— TheArseneView (@TheArseneView) September 20, 2018
Have to say, Iwobi really seems to be benefitting from working with Emery. He's been bright and lively whenever he's played this season. Good to see. So much potential that needs releasing in him.

— Charles Watts (@charles_watts) September 20, 2018
Iwobi looks so rejuvenated and looking like a player full of confidence. Playing like the Iwobi from 15/16. Naija Messi in the cut‼‼

— P🎒 (@RedLacazette) September 20, 2018
Iwobi is a different animal under Emery – who else noticed he seems much more physical and maybe even quicker??

— MGH (@OfficialMgh) September 20, 2018
One of the best things about Emery's tenure so far is the 100% record of using Iwobi on the left. It became a joke seeing him on the right so much last season.

— Oscar (@Reunewal) September 20, 2018
The difference in Iwobi this season is surely down to one thing – CONFIDENCE 👏👏

— 🔥𝔸𝕦𝕓𝕒𝟙𝕂𝕖𝕟𝕠𝕓𝕚🔥 (@Yo_Pierre10) September 20, 2018
Iwobi might need to play more often. Best option we have on the wing.

— Paddy (@VieiraPaddy) September 20, 2018
Iwobi has continued his good form tonight.

Reborn.

— The Arsenal (@DareToWenger) September 20, 2018
Iwobi has been brilliant today. So influential in the attack all day and he made the killer pass to set Aubameyang up for the opener.

— Dylan Walsh (@dylanwalsh_) September 20, 2018
Really wanna see Iwobi play against Everton… Looking like a completely different player compared to last season 😊

— Vengaadesh (@Venomesh) September 20, 2018
I see a lot of praise to Iwobi. Rightly so. That's what confidence does. That's how the player plays when nobody use you to blame the manager. Let's be honest Alex always shown it but some fan prefered to use him for their Out campaign

— Kate U (@Liveorangejuice) September 20, 2018