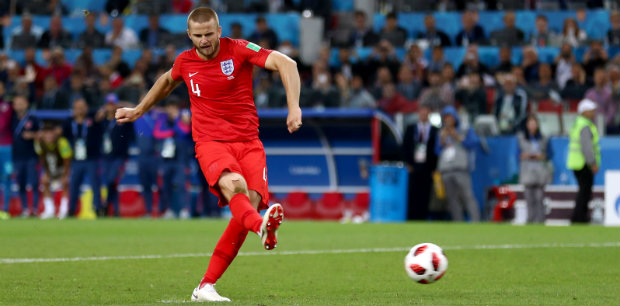 © Adam Davy/PA Wire
Eric Dier is hoping for another blast of Gareth Southgate's "karaoke tunes" after England's World Cup semi-final against Croatia.
While Love Island and Fortnite continue to dominate down-time in the team hotel in Repino, Southgate and his backroom team are in charge of the playlist when the team bus returns victorious from the airport.
Southgate could not recall the selection he and his coaching staff put together for the team after Saturday's quarter-final win over Sweden, but Dier had his own take.
While he was unable to identify specific tracks – blaming a combination of low decibels and generational divide – the experience clearly left an impression.
"I don't know if they're embarrassed about their music or the speakers are bad… it's quite hard to hear at the back of the bus," the Tottenham man said.
"They don't put the volume up very loud – they try to keep the volume enough so that only they can hear it. But they like a lot of their… I call them karaoke tunes. Ones you can sing along to, old school '80s and '90s.
"There are some good ones in there, the players enjoy listening to them too, they've had a few sing-alongs on the way back from games and hopefully that will continue on Wednesday."
There is, of course, more to England's unlikely success in Russia than a judicious selection of songs and a few hard yards on the training pitch.
One of the extra measures brought in by Southgate was the appointment of Dr Pippa Grange, owner of a doctorate in applied psychology and the Football Association's head of team and people development since November.
Grange has been part of the FA's travelling backroom team, on hand to help the country's best technical players with the mental side of the game.
Dier was composed enough to slot home the winning penalty against Colombia in the last 16 and praised Grange's work to date.
"I think a lot of the work that we've done with her has been prior to the tournament starting, the last six or seven months," he said.
"Lots of the groundwork was done then. She's helped us in the same way throughout the whole tournament, it's never changed depending on how far we've come or depending on the magnitude of the games.
"Everything we've done, not just with Pippa but in general, just making sure we've just had consistency throughout… I'm sure that's really helped everyone and helped keep a really good environment within the camp."