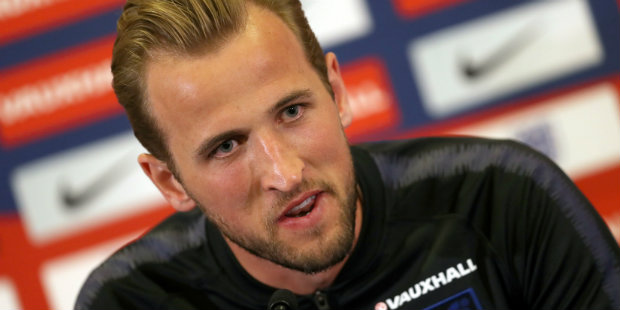 © David Davies/PA Wire
Newly-appointed captain Harry Kane wasted little time setting out his stall by expressing his belief that England can win this summer's World Cup.
Months of questions and speculation came to an end on Tuesday morning when the 24-year-old was confirmed as Gareth Southgate's skipper for Russia.
Kane has long been favourite to wear the armband at the World Cup given the Tottenham striker epitomises the brave, bold and fearless mindset the manager is trying to instill.
Despite being part of the Euro 2016 exit to Iceland, failings of the past do not appear to weigh heavy and the Tottenham striker spoke up the Three Lions' chances in his first press conference as captain.
"I think we can, I think we can win it," Kane said at St George's Park.
"I think we're not going to be favourites to win it. We know we're not favourites to win it.
"But you look at this season, for example, no one would have thought Liverpool would have got to the Champions League final and they did.
"And you look at maybe Man United back in the Ferguson days when they had a young team and dominated the Premier League for years to come.
"So, it's not really an excuse that we're young – it could be a good thing.
"I believe we can win it and that's what we've got to try and do. Anything else is not good enough, really."
Kane freely admits he has dreamt about lifting the World Cup at the Luzhniki Stadium this July and believes the squad's youthful exuberance will mean the shirt will perhaps not weigh as heavy as it has done on the teams gone by.
"For me, it's a strange one," he said of the pressure.
"I feel like the mentality… maybe we're a bit afraid to say we want to win stuff because we're afraid of the reaction of maybe the media or the fans, so maybe that has made players go into a bit of a shell.
"Whereas what I am trying to say is look, we're not afraid to say we want to win it because every country wants to win it.
"We have to be brave, we have to take it on the chin. Whether we go out at the group stage or the semi-final, it's the same – you don't win the World Cup.
"That's what we've got to try and discuss as players, to have no fear, just when we talk about it we want to win it and we go from there."
Kane came across as confident rather than cocky in an assured performance in front of the country's media hours after his appointment was announced.
The squad found out about the captaincy after meeting up at St George's Park on Monday, but the striker has had to keep schtum for several weeks.
"I found out a few weeks ago," Kane said. "I met Gareth at The Grove when the squad were there.
"We were talking for an hour or so, and he basically just said he wanted me to be the captain.
"I've had to keep it quiet a while now but it's fantastic. As soon as he told me, I just filled up with pride and obviously went home and told the family and they got excited as well.
"It was literally just the family, the close family; obviously my fiancee, mum and dad, and brother and that was about it.
"We spoke about when it was going to be announced and stuff, but I had to keep my lips sealed."