Olivier Giroud's move to Chelsea means Arsenal have handed over the scorers of more than half of their Premier League goals from last season to rival clubs in January.
Stats generated by number-crunchers Opta, and published by daily fantasy football game Oulala.com, show the potential effect of losing Giroud, Alexis Sanchez and Theo Walcott.
Manchester United's capture of Sanchez and Walcott's switch to Everton earlier this month had already seen two of Arsenal's top three Premier League scorers last season leave the club.
Now Giroud's move to Stamford Bridge completes the set – and, despite having spent five-and-a-half years at the Emirates, he was quite clearly happy to have signed for Chelsea.
But what will it mean for Arsenal?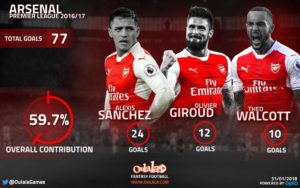 Sanchez (24), Giroud (12) and Walcott (10) scored a total of 46 Premier League goals for the Gunners in 2016-17, an overall contribution of 59.7% of Arsenal's 77 in the league last season.
Alexandre Lacazette, who joined the club last summer, and Pierre-Emerick Aubameyang, signed by Arsenal from Borussia Dortmund on transfer deadline day to beef up the attack, will be tasked with filling the goalscoring void left by the outgoing trio of Sanchez, Giroud and Walcott.