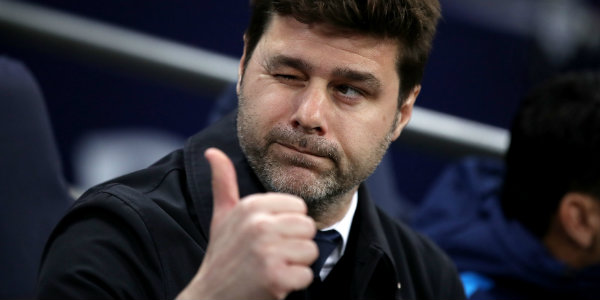 Tottenham boss Mauricio Pochettino praised his side's spirit after they got over their mini-slump with a 2-1 win at Brighton.
Spurs had lost three games in a row for the first time under Pochettino, but put things right in soaking conditions at the Amex Stadium as Harry Kane and Erik Lamela both scored.
Kane's return to the scoresheet made it an even better evening for Spurs as his penalty in the first half ended a five-game goalless run and also drew him level with Jermain Defoe on 143 goals for the club.
There were a few nervy moments in the second half, and Anthony Knockaert pulled a goal back in stoppage time, but the visitors survived to move back up to fifth in the Premier League.
"The spirit that we showed today was the spirit that I wanted to see in all of the games," Pochettino said.
"I am so happy with the attitude. We know very well we have a great quality, with great players who can play amazing football.
"In some periods we played so well. We deserved the victory in the end, of course we are very disappointed with the way we ended the game, the final two minutes.
"It's impossible that it happens again. It's good that it happens and you win but to concede a goal like we did was a very bad feeling.
"But of course the players were suffering a lot, the pressure was high and they wanted to deliver a very good result for the fans, for themselves and for us. I think we need to be pleased and congratulate them because the effort was massive after the Inter Milan defeat."
For Kane it was an end to 469 minutes without a goal for club and country and Pochettino never had any doubts about his quality.
"Always for me Harry is one of the best," Pochettino added. "He is one of best players in our team. I don't have doubt.
"It's always a guarantee to have him on the pitch, because he's a special player. For me he's a great player, not today because he scored. When he didn't score in the past it was the same."