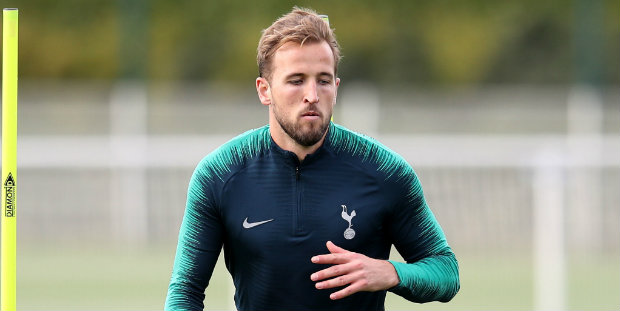 Tottenham boss Mauricio Pochettino believes Harry Kane would be even more prolific if he was not so obsessed with scoring.
England captain Kane has scored goals on a regular basis for club and country over the last few years, winning two Premier League Golden Boots and memorably also claiming the World Cup Golden Boot this summer.
He took his tally to 150 Spurs goals with his double in the Champions League win over PSV in midweek, which also saw him equal Jermain Defoe's record of 23 European goals for the club.
The 25-year-old, whose Tottenham team visit Crystal Palace on Saturday evening, has hit the net so regularly that a five-game run without a goal earlier this season was considered a crisis.
Kane's burning desire for goals was highlighted last season when he was ridiculed for his attempts to claim a goal at Stoke – one which was eventually awarded to him by the Premier League.
Pochettino has revealed that Kane's desperation to find the back of the net – undoubtedly a major factor in his success – can also be a hindrance.
"He is a killer, an assassin, a killer," the Argentinian said.
"He always in practice in everything he wants to kill the keeper, everything.
"He wants to score, he is so determined to score goals.
"That is why sometimes when he doesn't score he is so obsessed with scoring, that sometimes it is against him because sometimes you need more freedom, not to be obsessed.
"But he is going to learn because I think he is now starting to be really mature because he is still young.
"I am not surprised because he is so determined and in training you need to stop him training because he always wants to train, to improve and it is amazing."
Kane has made a mockery of the talk of an early-season drought by scoring eight goals in his next 11 games.
Pochettino is baffled why a player who has proven himself at the highest level is so quick to attract criticism.
"In England you have some very good things here but there are things you need to improve with your own players," he said.
"Kane is English and sometimes you push him to the sky and paradise and then you put him on the outside.
"Now after six years here I understand a little bit. It is true.
"If Harry Kane is Italian and playing for the Italian side he will be a bit more protected because the Italian people are more protective of their players.
"It is difficult to push but when they are there they try to keep up there.
"It's similar in Spain. Here it is more up and down.
"You score you are the best. If you didn't score no … you are criticised. That is the problem."