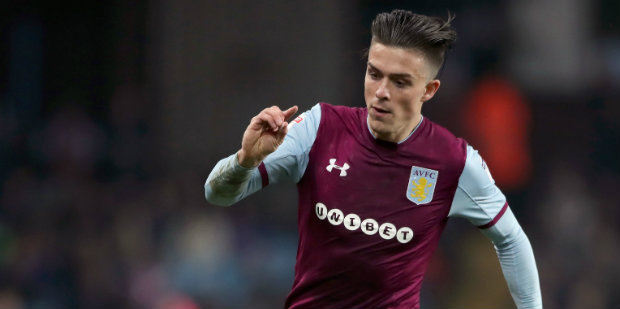 Mauricio Pochettino has refused to discuss reports linking Wilfried Zaha and Jack Grealish with Tottenham – or the future of striker the future of Fernando Llorente.
Spurs are reportedly pursuing a deal to sign Aston Villa midfielder Grealish (pictured), while Zaha is said to be keen to leave Palace.
"There are many rumours around the team," said Pochettino. "I cannot talk and I don't want to talk because I think we need to be focused on trying to work hard and get in the best form for the first game of the season."
Manager Pochettino was speaking at a press conference after Spanish striker Llorenre scored twice in Tottenham's 4-1 International Champions Cup win over Roma in San Diego.
Llorente is widely understood to be up for sale this summer after failing to make a big enough impression following his move from Swansea at the start of last season.
But the 6ft 5ins star may have given Pochettino pause for thought after his first-half double against Roma, which was matched by Lucas Moura in a comfortable win.
Pochettino said: "I'm not going to talk about individual situations because if I'm going to talk now about someone I need to talk about everyone.
"I am focusing on trying to work hard, trying to provide the team and every single player with the best tools to improve. Of course I'm happy when the striker scores and finds the net."