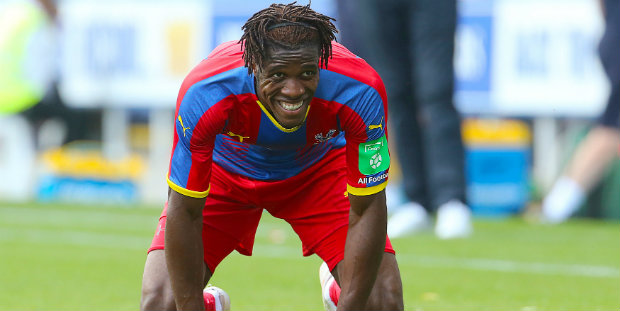 Crystal Palace boss Roy Hodgson revealed match-winner Wilfried Zaha defied the doctors to return so soon after injury and seal a 1-0 win at Huddersfield.
Zaha struck with a brilliant solo effort shortly before half-time after recovering from a groin strain, which had kept him out of the home defeat to Southampton, much quicker than expected.
"It was a wonderful goal, wasn't it?" said Hodgson after the Eagles secured their first Premier League win since the opening day.
"It was a really good goal. He was lively throughout, Wilf, I thought, and he deserves enormous credit because the groin injury he picked up could have kept him out a lot longer.
"It would have kept many a player out for longer, that's for sure, but he's so determined to play, so anxious to get back on the field that the doctors and physios can't keep him back."
Zaha underlined his importance to Palace in the 38th minute when he cut inside from the left wing, beating two defenders to curl an unstoppable shot inside Jonas Lossl's left-hand post.
Palace spent most of the second half on the back foot as Huddersfield chased an equaliser, but with Zaha in the mood the visitors continued to look dangerous on the counter-attack.
"I was concerned, of course, throughout the game," Hodgson added. "Had we had the margin of a second goal – and I thought we were close on a few occasions – I would have replaced (Zaha).
"At 1-0 with Huddersfield, as you'd expect, pressing for the equaliser, sending people forward, getting their crosses in, which they do well, dangerous of course from the long throws and corners, I didn't want to take him off the field.
"If we ever did get the ball free after any of those situations, he was the one who looked like he was going to break away and score a second goal."