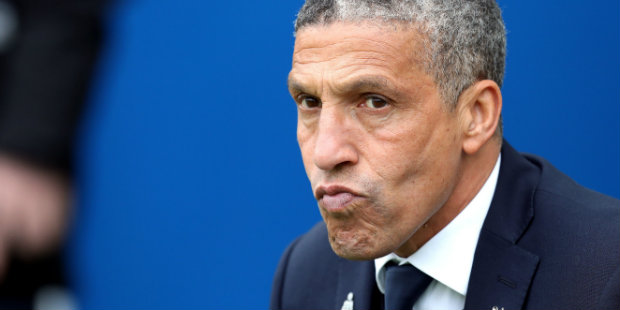 © John Walton/PA Wire
Brighton manager Chris Hughton has called on his side keep their heads when they welcome Crystal Palace in the Premier League on Tuesday.
The clash against the Eagles is one of the most hotly-contested fixtures and Hughton wants his men to give themselves the best chance possible.
"You want a team that's fired up and knows what this particular game means. It's normal stuff," he said at his pre-match press conference.
"Once the game starts you have to treat it as a normal game, a game you have to get right tactically and you have to do all the things well to get what you want.
"If you are too emotional in a game, we've been involved in our last three games where either us or our opposition have played with 10 men after a sending off.
"We have to be smart and go about business the right way.
"We have to take into consideration the emotions, the fight and the passion that comes with this type of game but we have to play sensibly."
The Seagulls returned to winning ways at Huddersfield on Saturday while Palace earned a much-needed victory over Burnley.
And Hughton knows his side will have to be at the top of their game if they are going to prevail.
He added: "It's a big game. I understand what it means to the club and supporters – and that's both sets of supporters and both clubs.
"There is a nice feel going in to the game, particularly as both teams won at the weekend.
"Generally they have been fairly close games, certainly in my time here, and I expect it to be no different.
"It will have to be about level of performance because I think they are a very talented team and a very good side.
"Their position in the league (14th) just shows how difficult this league is.
"They have an excellent manager who knows how to get results and set up his team, and they have matchwinners.
"Our level of performance will have to be good. We'll have to try to take the emotion out of the game when we can but we're at home.
"We have to try to take advantage of our home form, even though we are up against a team that have been good away this season."