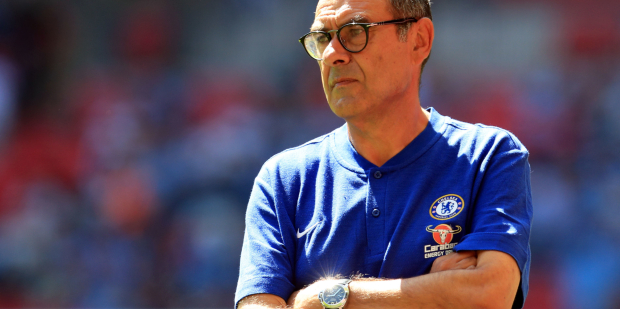 Chelsea have had an excellent start to the Premier League season, going undefeated through nine games, winning six. With Maurizio Sarri at the helm, the Blues have been playing their most exciting and attacking form in years, leading to them being considered as legitimate title contenders in the odds.
As relayed by Metro, Manchester United legend Ryan Giggs points to Chelsea as being in the title race alongside Manchester City and Liverpool, credit that the London club has more than earned in the early stages of the season. But, when comparing the squads of Liverpool, Manchester City, and Chelsea, some frailties could ultimately lead to Chelsea falling behind the two clubs ahead of them in the Premier League betting thus far.
But, if Chelsea can sustain their strong run of form to January, and then make some moves in the transfer market, they should finish as the highest placing London club and potentially give their northern rivals a battle to the end of the campaign.
Chelsea need a leader
César Azpilicueta is set to make his 200th Premier League appearance for Chelsea today; he has played 82.8% of all possible league minutes since joining the club.

• 200/230 games
• 17,136/20,700 minutes

He's only missed 90 minutes since the start of the 2016/17 season. 🔵 pic.twitter.com/6Mv5QU44S0

— Squawka Football (@Squawka) August 26, 2018
With Gary Cahill slipping out of favour under Sarri, the team need a leader on the pitch. Cesar Azpilicueta has donned the armband for the majority of matches this season but, after the Manchester United game which saw the Red Devils come back from 1-0 down to draw 2-2, it's clear that a strong leader is needed in the big games to keep the team tight across the field.
As far as transfer rumours go, most have been surrounding the team's other need, which we'll get to shortly, as well as numerous central midfielders. Given how well Jorginho, Ross Barkley, and N'Golo Kante have played, it seems odd that the likes of Aaron Ramsey and Sandro Tonali would come up. But, Sarri's former captain at Napoli, central midfielder Marek Hamsik, could certainly bring a leadership boost to Chelsea.
Preferably, Chelsea would sign a defensive leader to coordinate the backline but, sometimes, big characters in midfield can do the job. But, the bookies will likely have them at long odds to sign the superstar Slovakian, partially due to his unwavering loyalty to the Italian club. Equally, Chelsea could improve at the back, perhaps with a stronger defender in David Luiz's place, whereas the midfield has been operating very well.
It's the less pressing of the two needs as Azpilicueta, or even Jorginho could step up as the team leader as they all become more comfortable with Sarri's system. A lack of a true leader hasn't appeared to hamper their backing among bettors so far, but more structure and command at the back would certainly help.
A top striker is needed
Fue un 14 de octubre cuando Felix Baumgartner saltó desde el espacio y estamos casi seguros de que en su regreso se trajo a @alassane_plea de otro planeta. 😜🚀 #DieFohlen pic.twitter.com/rT9tFbldyB

— Borussia (@borussia_es) October 14, 2018
Whenever you see Chelsea come up in the transfer rumours section, the club is inevitably tied with a striker. Right now, Chelsea's top 2 targets seem to be Mauro Icardi of Inter Milan and Krzysztof Piatek of Genoa, according to reports.
So far, Olivier Giroud has been a serviceable centre-forward, making himself available for passes and drawing attention away from the more goal-savvy wingers, whereas Alvaro Morata has been on the pitch. It's somewhat surprising that Chelsea can weigh in with the UK's top 5 bookmakers as a favoured title contender with the with this immense lack of a scoring striker. Eden Hazard has been banging in goals, but it's quite rare for a team to win the Premier League without a recognised top-class striker.
Signing a striker who can play in Sarri's system and handle the demands of the Premier League would take this Chelsea team from dark horse contenders to legitimate challengers to Manchester City's throne. Unfortunately, Icardi and Piatek appear to be staying put this season, but there are plenty of strikers impressing overseas, such as Borussia Monchengladbach's Alassane Plea who opted for the Bundesliga over the Premier League in the summer. In a top team like Chelsea, Plea could become to be a potent striker in the English top flight should he continue to prove to be a consistent threat in Germany over the next couple of months.
Chelsea have earned their place as a contender to the Premier League this season, but with a boost up front in the form of a goal scoring striker, they could shed their demeanour as dark horses and surge in the odds to be a fully fledged runner for the title.