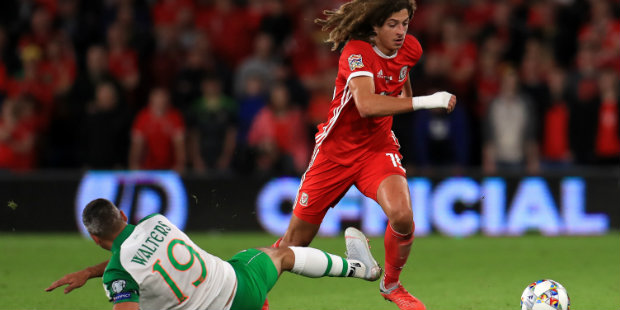 Many fans on Twitter have been reacting to Ethan Ampadu's superb performance for Wales against the Republic of Ireland.
The Chelsea youngster, back in action after an ankle injury, impressed when given a chance for the Blues last season.
And he enhanced his growing reputation with a classy display as Ryan Giggs' side won 4-1 at the Cardiff City Stadium.
More first-team chances for Ampadu, 17, now seems certain, with many fans hopeful he will at least feature in the Carabao Cup and Europa League.
But there have also been some fear expressed that prospects such as Ampadu, Ruben Loftus-Cheek and Callum Hudson-Odoi could end up moving elsewhere if they do not get a run in the Chelsea team.
Ampadu is such a prospect. If he works hard and gets loads of games under his belt on loan by the age of 20 he could be a starter for Chelsea! #CFC

— Jannat (@jannatcfc) September 8, 2018
If we do not introduce Hudson Odoi, Ampadu & RLC very soon in our 1st team or 11 then we may just close our academy. 3 top top young players who saves us millions.#CFC

— Sarriball & hazard is 🔥 (@CAgisilou) September 7, 2018
Rivals fans may think Ethan Ampadu is a kid with a weird hairdo. But he is expectional in defense and midfield, the composure and his reading of the game is so matured. Hudson-Odoi is everyone's favourite youth player but Ampadu is a world class potential too #CFC

— Alvaro (@MorataReloaded) September 7, 2018
Really would love to see Ampadu play in Jorginho's role for the domestic cups #CFC

— Calum Goddard-Mocklow (@calumgoddard) September 7, 2018
Ampadu was world class last night, hopefully will be playing more for Chelsea in Europa league. #CFC #Chelsea #AMPADU

— Azpi. (@KingCFCDave) September 7, 2018
We're lucky to have talent like Ampadu & Hudson-Odoi but…. let's play them!

Top Top clubs are keeping a close eye on them both let's not slip…. again!!#CFC

— Chelsea FC Forever (@ChelseaFC_Fan) September 7, 2018
This boy Ethan Ampadu is something else for Chelsea.#CFC

— Olawale Daniel (DoctorRESIDUAL) (@DoctorRESIDUAL) September 7, 2018
Ampadu has once again dominated for @FAWales and has given a wake up call to Sarri.
He deserves to play. #CFC

— VK (@vyaskumar90) September 7, 2018
#cfc I hope Sarri Gives The Europa to Ampadu, Hudson-Odoi and Loftus-Cheek, These players need to play, the potential is frightening.

— Charlie Costa (@Maestrodevil79) September 7, 2018