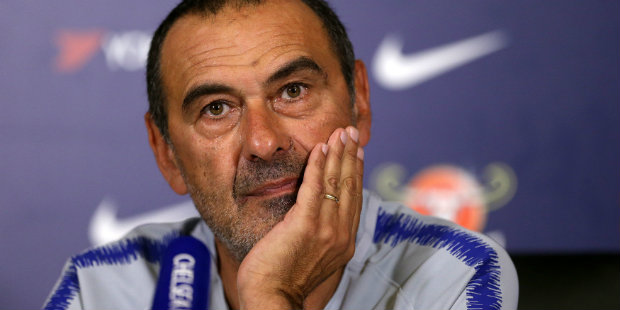 © Steven Paston/PA Wire
Maurizio Sarri knows even winning trophies is no guarantee of a lengthy stay at Chelsea.
Like his immediate predecessors Jose Mourinho and Antonio Conte, Sarri envisages a long-term future at Stamford Bridge.
"It depends on the club. (If) I want to stay here for 10 years, then I have to win," the head coach said.
"Then it depends on the club. But I want to stay here for a long time."
Whether the 59-year-old former Napoli boss outlasts Mourinho, Chelsea's most successful manager, or Conte, sacked last month after two trophies in two seasons, remains to be seen.
Sarri has won plaudits, but not a trophy, in his managerial career, so may place more emphasis on winning Sunday's Community Shield with Manchester City.
"I think it's very important to start with a trophy," Sarri added.
"It's also important that the performance is a step forward. Clearly for me it's very important to win something."
Sarri wants to narrow the gap to City. Chelsea won the FA Cup in Conte's final match in charge, after finishing fifth as City won the league title at a canter.
"In this moment it's a very difficult match," Sarri said.
"We can try to reduce the gap in the future with work. I think my job is to try to improve my players and so we will have to work for this target, to reduce the gap."
Cesc Fabregas may miss out this weekend due to a minor knee problem.