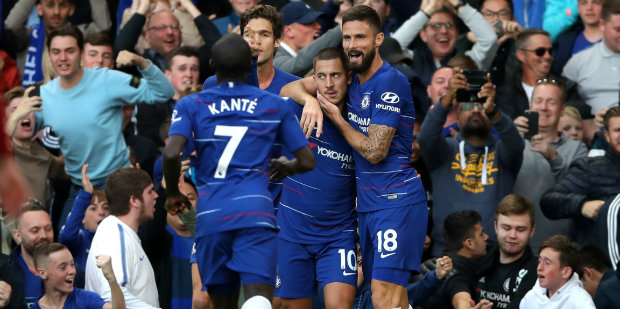 © John Walton/PA Wire
Spanish newspaper AS say Real Madrid would be willing to pay no more than €120m (just over £100m) for Eden Hazard in January and €80m (around £70m) next summer.
Reports in Spain continue to link Hazard with Real, who were continually tipped to make a move for him during the summer transfer window – but didn't.
Hazard recently added to speculation over his future by saying he was torn over whether to sign a new contract at Chelsea or leave the door open to a potential move to Real.
He said: "I don't want to say: 'Yes, I am signing a new contract' and then in the end I don't end up signing.
"So I will see. Sometimes in my head, I wake up in the morning and think I want to go.
"Sometimes I think I want to stay. It is a hard decision. It is my future.
"Real Madrid is the best club in the world. I don't want to lie.
"It is my dream since I was a kid. I was dreaming about this club. We will see.
"I don't want to talk about this every day. I don't have time, but we will talk about my future soon. I think so."
AS predict Hazard will not sign a new deal and that Real are ready to make an offer in January and if no move materialises would then be prepared to make a lower offer at the end of the season, as Hazard would then be entering the final year of his contract.