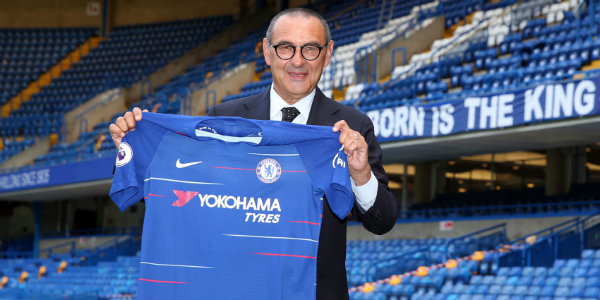 Maurizio Sarri was unable to give guarantees over the futures of Eden Hazard and Thibaut Courtois amid speculation the Belgian pair could leave this summer.
Speaking at his unveiling as Chelsea head coach at Stamford Bridge, Sarri told a media conference of his disinterest in the transfer market.
After an opening address in English, Sarri spoke in his native Italian, saying: "Clearly we would always like to keep all the strongest players. This is what any manager wants to do, this is what any club wants to do.
"Then we will have to see how the transfer market will go over the next few days.
"I think that I am one of the few managers who is bored by the transfer market. I don't want to talk about the transfer market and I'm not that interested in it."
Sarri would not respond to further transfer questions, but suggested he would look closely at his midfield.
"I cannot name any names because I don't know who these people are," Sarri added.
"I spoke to the football club and I said a pinch of quality is lacking in centre midfield for a certain kind of play. Otherwise they're at a very high level.
"At the end of the transfer window it will be up to me."
Asked specifically about club captain and Chelsea's longest-serving first-team player Gary Cahill, who was on Tuesday linked with a move, Sarri said: "With respect to Cahill, I think he can still give us a lot."