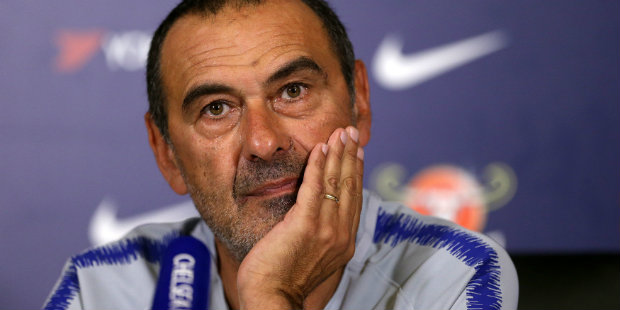 © Steven Paston/PA Wire
Chelsea boss Maurizio Sarri was delighted to start Premier League life with a comprehensive victory at Huddersfield, although the difference in physicality and refereeing is going to take some getting used to.
Just 28 days after being belatedly confirmed as Antonio Conte's successor, the Italian got his first taste of the English top-flight in West Yorkshire.
Chelsea had to dig deep early on against Huddersfield but went in at the break with a two-goal cushion thanks to N'Golo Kante and summer signing Jorginho.
Pedro wrapped up a 3-0 opening-day win after star turn Eden Hazard came off the bench as Sarri's men made a confident start to the campaign, looking far stronger than last weekend's Community Shield loss to Manchester City.
"I am really very happy because in the first part of the season I think that for us it is not easy to gain points," Sarri said.
"The first half was hard. If you look at the result, you can think about an easy game, but in the first half we were in trouble for 15 minutes against a very physical team.
"We are not a physical team and I think the best of the game is the capacity of suffering for 15 minutes.
"Then I think in the second half the opponents were a bit tired and it was easier."
Huddersfield could have been a baptism of fire for Sarri and the likes of Kepa Arrizabalaga, who this week became the most expensive goalkeeper in history.
"From the physical point of view, it's different," Sarri said, comparing the Premier League to Serie A.
"For the referees, it is different. Really different. Today with an Italian referee maybe there were 15 fouls more than with this referee."
Asked if he can replicate Napoli's style at Chelsea, Sarri said: "No, I have to know the characteristics of the players because I think I don't want to do another Naples. I want to do a good Chelsea.
"I have to respect the characteristics of the players, I have to adapt myself to the characteristics of the championship and of the players, so now I am studying my players."