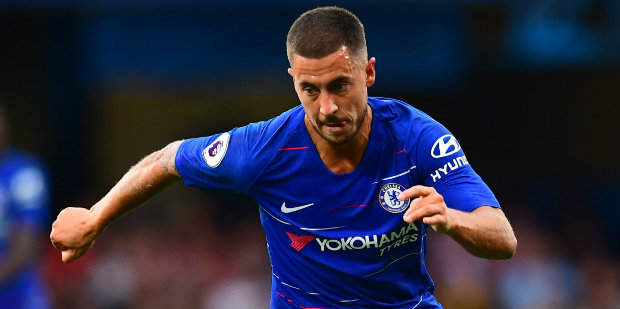 © Victoria Jones/PA Wire
Maurizio Sarri took encouragement from Chelsea's free-scoring form without Eden Hazard – but is not about to start resting his star man when he is fit again.
Hazard sat out a second consecutive match with a back problem as Sarri's side thumped Burnley 4-0 and is a doubt for Wednesday's Carabao Cup fourth-round clash with Derby and could also miss Sunday's London derby against Crystal Palace.
The goals were spread around at Turf Moor, with Alvaro Morata scoring one of several golden chances in the first period before Ross Barkley, Willian and Ruben Loftus-Cheek chipped in with second-half goals, the latter making it four in a week after his Europa League hat-trick.
Chelsea boss Sarri said: "I want Hazard in every match if it's possible because we have a lot of very good players but Hazard I think is something different.
"I am very happy because the team was able to score seven goals in two matches without Hazard. It's a very good sign. I want Eden as soon as possible. I don't know for Wednesday but I hope for Sunday."
Barkley in particular has stood out in recent games and, after earning a point against Manchester United last weekend, the England midfielder played a superb pass for Morata's goal before sending a 25-yard effort fizzing into the bottom corner.
Sarri said: "Barkley is doing very well in this period. He improved in the defensive phase, improved very much. He improved his physical condition because the last season for him was really very difficult. He's a very good player from the technical point of view. Now I think Ross is complete."
Sarri also praised Morata, who has had plenty of detractors but gave Burnley's defence a torrid afternoon and netted his third goal in four games.
All that was missing was a second or third goal, and Sarri said: "He played a very good game. Probably he could score more but he scored a good goal. I think the last three, four matches can be a good restart for him."