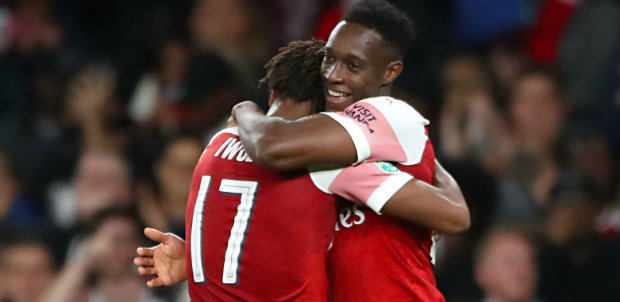 Danny Welbeck may be missing with a broken ankle, but he still played his part in Arsenal's pre-match preparations as goalkeeper Bernd Leno revealed he shared a FaceTime call with the players ahead of Sunday's draw with Wolves.
The England forward underwent surgery on Friday after suffering what the club described as a "significant" injury during Thursday's goalless Europa League draw against Sporting Lisbon.
It remains to be seen how long Welbeck will be on the sidelines, but head coach Unai Emery arranged for him to speak to his team-mates in the dressing room as they prepared for the Premier League clash with Wolves.
He could not inspire the Gunners to a win as they toiled to a 1-1 draw, substitute Henrikh Mkhitaryan levelling four minutes from full-time after Ivan Cavaleiro's goal looked set to be enough for the visitors.
"We talked to him because of the coach before the game in the meeting, we had a FaceTime session with him," Leno said after the game.
"It was very good, we wanted to win for him. We all are sorry for him for his injury, and hope he will have a good recovery and to see him on the pitch because he's an important player for the team and also in the dressing room.
"He looked very happy and I think he was happy to talk to us because he is still a big part of our team and we will support him to have a good time when he is injured.
"I think that is a big quality of the manager because he always wants to have a team, not just one player, one player, one player (individuals) and I think this meeting was very motivating for us and for every player to play for Danny because everybody likes him."
Arsenal extended their unbeaten run to 16 games with a draw which could easily have been a first defeat since August.