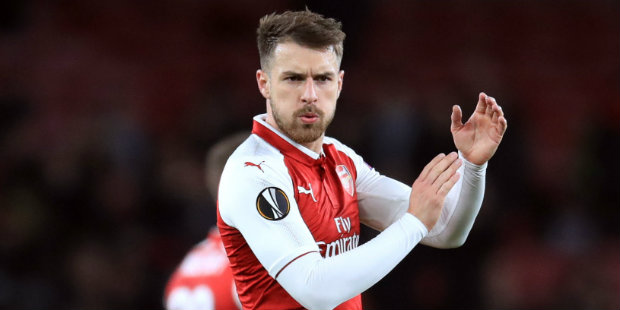 © Adam Davy/PA Wire
Arsene Wenger has revealed Arsenal are in talks with Aaron Ramsey over a new contract.
The Gunners have come under the spotlight for their contract negotiations as they have at times failed to tie their top names down.
Mesut Ozil has signed a new contract but Alexis Sanchez was allowed to leave in January once it became clear he had no intention of committing his future to the club.
Jack Wilshere captained the side in Sunday's 3-0 Premier League win over Stoke but his deal expires in the summer and player and club are publicly at odds as to the progression of contract talks.
Ramsey's current deal runs to the end of next season and there is likely to be a queue of suitors should he enter a similar situation to Wilshere. Wales international Ramsey showed his class with another fine display and two goals against CSKA Moscow in the Europa League on Thursday.
"We are communicating," Wenger said, when asked about a new deal for Ramsey.
"Yes, I'm confident, he's not at the end of his contract, he has one and a half years to go. From my side it is clear, but you always have to find an agreement.
"We want him to stay. He's one of these guys who has been here for a long time. He will be an important player in the future of this club."
While making it clear he is keen for Ramsey to extend his stay beyond 2019, Wenger said he only wants players at the club who are there because they want to play for Arsenal.
"I don't want to convince a player (they should sign)," he added.
"I want the player to be happy to play for the club. Having players who want to play for the club is the way we want to play football and is in the values we feel are important to us.
"With the right amount of money we want to pay, all these things have to come together."
Ramsey is enjoying a relatively injury-free spell having been hit by several setbacks since joining from Cardiff in June 2008.
He scored a hat-trick in the recent Premier League win over Everton and has only netted more than his current six league goals once, when he notched 10 in 2013/14.
"Sometimes there is a re-occurrence of an injury," Wenger said. "It is a little bit like an engine in Formula One, you have to find out where the problem matters and what you have to change.
"Sometimes it can be a single movement to change and that can take time."